Kari Lake supporters tune in to the Confederate flag waver during the election protest
A confrontation erupted in Arizona on Friday after a man appeared at a rally of Kari Lake supporters with a Confederate flag and refused to leave.
About 30 Lake supporters gathered in Phoenix in front of the Arizona State Capitol and called for a rerun of the state's gubernatorial election.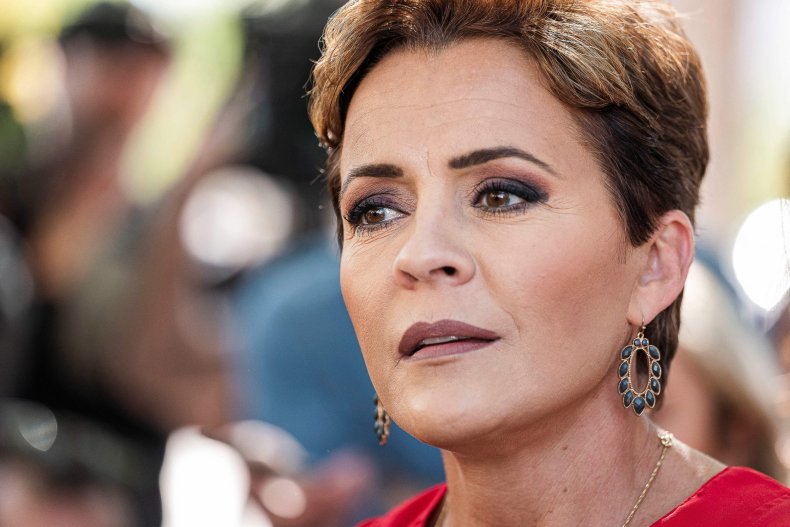 Lake, a Trump-backed Republican, lost the governor's race to Democrat Katie Hobbs with 49.7 percent of the vote to 50.3 percent.
However, Lake has refused to concede in what she considers a "botched" election and has filed a series of lawsuits to overturn the result.
Their supporters organized a protest outside the state capital at 9 a.m. MST, claiming "hundreds of patriot groups" were banding together to "protest the undetectable results."
However, video of the scene in a tweet by Ron Filipkowski showed no more than 50 people showed up, including a man waving a large Confederate battle standard.
This sparked anger from other rally attendees, who accused the man of wanting to undermine their event and urged him to leave.
A man shouted, "It's White Power B******, get out of here!"
A woman told the man to "go and take your racist flag".
The Confederate flag-waver, who refused to go and insisted he was "part of the movement," said: "Demographics is destiny — there's a reason the border needs to be closed."
At one point, another man, carrying the U.S. and Arizona flags and a banner promoting Lake, walked right up to the flag-waver and demanded that he drop the Confederate banner.
He said, "Please, I beg you, please take down this flag."
The flag-waver replied, "No, I won't be a second-class competitor."
On Wednesday, Lake filed a lawsuit demanding the release of Maricopa County's election records, alleging people across Arizona "may not have been able to vote," with "cases of misprinted ballots, mixing of counted and uncounted ballots." and long lines that discouraged people from voting" as examples.
Lake's attempt to overturn Arizona's gubernatorial result follows former President Donald Trump's refusal to accept the 2020 presidential election result, which he says was "rigged" in favor of Joe Biden.
Trump launched a series of unsuccessful legal challenges to reverse the outcome, with his theories of fraud largely dismissed by legal and electoral experts, including Republicans.
On January 6, 2021, hundreds of Trump supporters broke into the US Capitol in a vain attempt to prevent Congress from confirming the election results.
During the violence, a Trump supporter, Ashli ​​Babbitt, was shot dead by law enforcement while dozens of officers were injured by rioters. Brian Sicknick, a 42-year-old Iraq war veteran with the Capitol Police, died the following day of natural causes after protesters sprayed a chemical irritant in his eyes and face.
news week has reached out to Kari Lake for comment.
https://www.newsweek.com/kari-lake-supporters-turn-confederate-flag-waver-election-protest-1762477 Kari Lake supporters tune in to the Confederate flag waver during the election protest