Kate Middleton blows a kiss to her parents at Wimbledon in Sweet Viral Moment
Kate Middleton has been spotted in a viral video alongside Prince William, who blew her parents a kiss from the royal box at Wimbledon.
The Duke and Duchess of Cambridge watched as British tennis star Cameron Norrie defeated Belgium's David Goffin to secure a place in the semi-finals.
Kate was seen blowing a kiss to her parents Carole and Michael Middleton from the stands as her family turned up for a sunny day at the All England Lawn Tennis and Croquet Club.
A popular royal family Twitter account shared the footage and the Video has been viewed more than 227,000 times.
The BRF account wrote: "The Duchess of Cambridge searches for her parents in the royal box and blows them a kiss in greeting [heart eyes emoji] What a sweet daughter [smiling face with hearts emoji] #Wimbledon2022."
Royal biographer Robert Jobson told the Australian newscast sunrise: "She threw that kiss to her mother and father, who obviously got pretty good seats in the royal box now that she is the royal patron."
He added: "I think whenever they showed up anywhere – and we saw it on Center Court – the place was packed. It was a hustle anyway with all the tennis being played but the photographers were all trying to get their shots and also the crowd was on their feet when they arrived.
"They have a real presence when they show up and Kate is a real tennis fan so it's great to have her at Wimbledon in that way."
Kate is patron of the Lawn Tennis Association, the sport's governing body in Britain, and a frequent spectator in the stands at Wimbledon.
Prince William and Kate posted on their official Twitter: "What a match! Just awesome @cam_norrie [clapping hands emoji] 🇬🇧 #Wimbledon."
They later wrote: "What a tennis day! [tennis racquet and ball emoji] Fantastic to be back at @Wimbledon today and wonderful to see @Cam_Norrie raise the flag in the singles!"
Kate and Williams' Wimbledon visit came a day after her brother James Middleton and his wife Alizee Thevenet were spotted in the stands on July 4.
Norrie became the fourth Briton to reach the semifinals at Wimbledon in the Open era when he defeated Goffin. The Independent reported.
He came back from two losses and won with his second match point in the final set after three hours and 28 minutes of sporting drama.
The ninth seed now plays world no. 3 Novak Djokovic in the last four on Friday, July 8.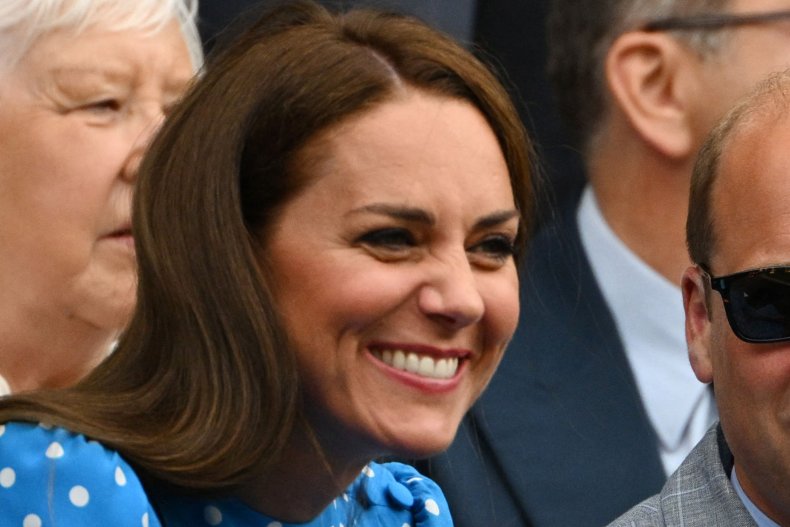 For more royal news and commentary, visit Newsweek The Royal Report Podcasts:
https://www.newsweek.com/kate-middleton-blows-parents-kiss-wimbledon-viral-moment-carole-michael-james-1722022 Kate Middleton blows a kiss to her parents at Wimbledon in Sweet Viral Moment