Kate Winslet just opened up about the "bullying" she endured in her 20s over her body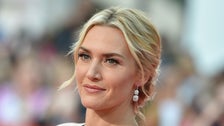 Kate Winslet has been in the public eye for decades – and has had to endure constant scrutiny of her body for almost all of her time in the spotlight.
The actress told the magazine that she "wouldn't put up with that shit from anyone," a feeling she said stemmed from her treatment in the press after "Titanic," which premiered in 1997.
"I think it's probably because in my 20s I was subjected to the most horrific scrutiny and judgment, and I would even say bullying, from the mainstream media," the now 47-year-old Oscar winner explained.
Winslet believes things are different for younger entertainers now, especially in the wake of the Me Too movement.
"Young actresses now – fuck me – they're not afraid. "It makes me so proud," said the "Lee" actor. "And I'm like, yeah, all the shit that's thrown around, all the fighting, all the years of using my voice, being pointed and laughed at a lot – I don't give a fuck!"
"It was damn worth it," she continued. "Because the culture is changing in ways that I never could have imagined in my wildest dreams when I was in my twenties."
Winslet has previously spoken out about her terrible treatment in the industry. tells the Sunday Times Last year she was told to audition for "Fat Girl" roles at drama school.
"People face more scrutiny than a young, vulnerable person can endure. But things are really changing in the film industry," she told the Times. "When I was younger, my agent would get calls asking, 'What's her weight?' That's no joke. So it's heartwarming that this is now starting to change."