Kevin McCarthy promises to block these lawmakers from serving on committees
House Minority Leader Kevin McCarthy vowed Sunday to remove some lawmakers from the committees they currently serve on if he becomes the new House Speaker.
During an interview on Fox News Sunday Morning Futures with Maria Bartiromo, McCarthy was asked if he plans to keep his promise to remove some Democrats from their roles if he is elected the next speaker.
Bartiromo was referring to California Representatives Eric Swalwell and Adam Schiff, both of whom serve on the House Intelligence Committee, and Minnesota Representative Ilhan Omar, who serves on the House Foreign Affairs Committee.
"I will keep that promise," said the California Republican.
"One thing I said from the start, Eric Swalwell cannot get security clearance in the public sector. Why would we ever give him security clearance for the secrets to America, so I won't allow him to be at Intel," McCarthy said.
Swalwell has come under scrutiny from some Republicans after reports he was targeted by a suspected Chinese intelligence agent who wanted to forge links with US politicians. However, the Democratic lawmaker has not been accused of wrongdoing, according to The Hill.
Meanwhile, in 2019, former White House speechwriter Marc Thiessen allegedly said that then-President Donald Trump "should consider withdrawing security clearances for members of Congress," including Schiff and Swalwell, for "openly lying to the American people."
Swalwell pushed back and tweeted at the time: "I don't have a security clearance. I am an elected member of Congress from a SEPARATE BUT SAME branch of government. Sorry @marcthiessen(&@realDonaldTrump), we don't live in a kingdom. I will not be silenced."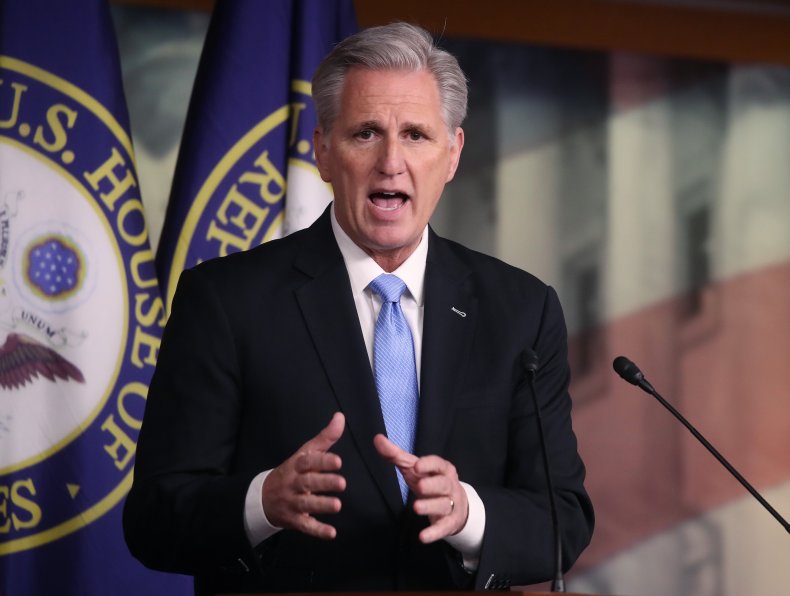 On Sunday, McCarthy added, "You have Adam Schiff, who has consistently lied to the American public. We will not allow him to be on the Intelligence Committee either." The House Minority Leader was referring to Schiff's alleged support of the Steele dossier, also known as the Trump-Russia dossier, which details alleged ties between the former president and Russia, according to Axios.
McCarthy also said during his appearance on Fox News that Omar should not be included on the Foreign Affairs Committee because of her comments on Israel, which he described as "anti-Semitic".
Omar has repeatedly faced backlash over her statements about Israel. In one of her now-deleted tweets, Omar hinted that Axios said the country's political support was based on donations from pro-Israel lobby groups like the American Israel Public Affairs Committee (AIPAC).
McCarthy tweeted on Saturday: "Last year I promised that when I became Speaker, I would remove Rep. Ilhan Omar from the House Foreign Affairs Committee for her repeated anti-Semitic and anti-American comments. I keep that promise. "
House Republicans recently secretly voted 188-31 to nominate McCarthy as Speaker of the House as the GOP narrowly seized control of the House in this year's midterm election.
Twitter added a text box below McCarthy's Saturday tweet with additional context, noting that the "speaker does not have the authority to remove a member from a standing committee. Foreign Affairs is a standing committee" and that a majority vote of the whole House is required to do so.
"The Speaker may remove members, delegates or the resident commissioner from a selection or conference committee, or appoint additional members, delegates or the resident commissioner," the Property Management Committee wrote on its website.
McCarthy, along with some other Republicans, prepared an agenda to be carried out if they win the House of Representatives, including numerous investigations into President Joe Biden's administration.
"We will not predetermine what happens. The most important promise we are making to the American public is that whatever we have to do, we will get to the bottom of the truth to uphold the law," McCarthy told The Daily Caller earlier this month.
news week reached out to Daniel Schuman, a policy director at Demand Progress, and the press offices of the House Management Committee and the Foreign Affairs Committee for comment.
https://www.newsweek.com/kevin-mccarthy-promises-block-these-lawmakers-serving-committees-1760935 Kevin McCarthy promises to block these lawmakers from serving on committees