Kissinger is calling for cession to Russia, similar to the 1930s appeasement policy, says Zelensky
Former US Secretary of State Henry Kissinger's demands for Ukraine to give up part of its territory in order to secure a peace deal with Russia are similar to attempts to appease Nazi Germany in the 1930s, said Ukrainian President Volodymyr Zelenskyy.
In a video address late Wednesday, the Ukrainian leader dismissed proposals made by Kissinger on Monday that Ukraine should give in to Russia and give up two eastern regions occupied by Russian forces.
Kissinger, 98, who served as the 56th foreign minister until 1977, suggested this week at the World Economic Forum in Davos, Switzerland, that Ukraine and Russia should start peace talks in the coming months and cede Zelenskyi territories to Russian President Vladimir Putin to end the war that started in February.
In response to the former Secretary of State's remarks, Zelensky said Kissinger "emerged from the deep past and said that a piece of Ukraine should be given to Russia."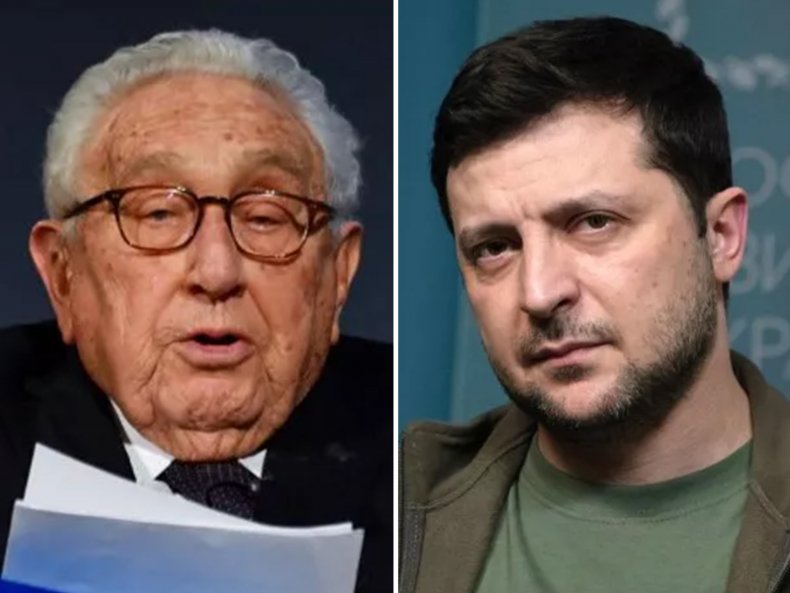 He said Kissinger's "calendar is not 2022 but 1938" – referring to the Munich Agreement, signed by Britain, France, Italy and Germany in 1938, which paved the way for Nazi Germany to annex western Czechoslovak territory.
"Whatever the Russian state does, you will always find someone who says: 'Let's take his interests into account,'" Zelenskyy said. "One gets the impression that Mr. Kissinger … thinks he is not speaking to an audience in Davos, but in Munich."
Zelensky opined that in the 1930s and 1940s Kissinger never suggested that the world "adapt" to the Nazi regime.
"By the way, in the real year 1938, when Mr. Kissinger's family fled from Nazi Germany, he was 15 years old, and he perfectly understood everything about fleeing from them or fighting them," Zelenskyy continued.
"Those who advise Ukraine to give something to Russia, these 'great geopolitical figures' never see ordinary people, ordinary Ukrainians, millions living on the territory they want to exchange for an illusory peace. You always have to see people," he said.
Zelenskyi has repeatedly stated that he will not give up any territory to end the war with Russia, which is now in its third month. Ukraine has set key conditions, including that Ukraine would not consider the conflict over until the country regained control of land currently occupied by Russian forces.
"We want everything back," Zelenskyy said in a May 21 interview with a Ukrainian news channel. "Russia doesn't want to give anything away."
Newsweek has reached out to a Kissinger spokesperson for comment.
https://www.newsweek.com/zelensky-kissinger-ukraine-cede-russia-territory-1930s-nazi-germany-appeasement-1710289 Kissinger is calling for cession to Russia, similar to the 1930s appeasement policy, says Zelensky