Kourtney Kardashian is under fire for 'The Kardashians' premiere
The Kardashians Fans criticize Kourtney Kardashian for her "victim mentality" in the season four premiere.
Fans who watched the third season will remember the ongoing feud between Kim and Kourtney Kardashian over their collaboration with Dolce & Gabbana, which appears to have spilled over into the new series.
The American Horror Story: Delicate The creative actress fronted a show for the Italian fashion house and used outfits from the luxury brand's '90s archives.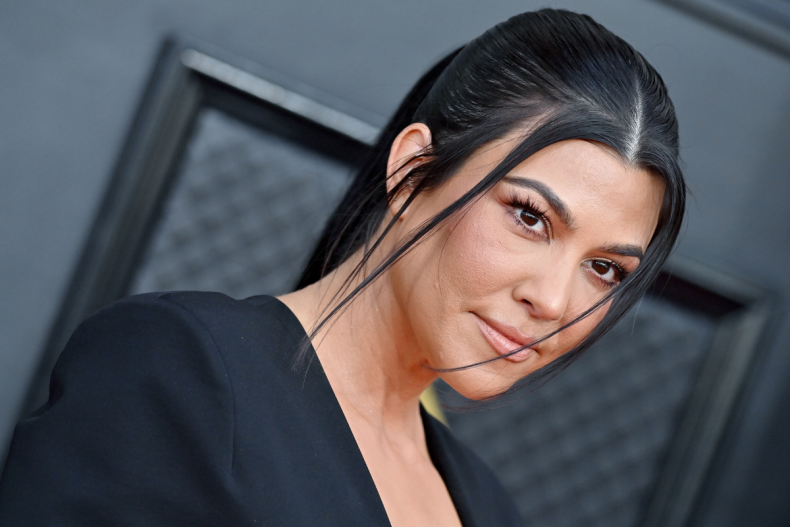 Kourtney was upset by the move – she had used the same vault to create looks for her wedding to Blink-182 drummer Travis Barker in May 2022 – and accused her sister of capitalizing on her wedding for financial gain achieve. This led to a heated phone call at the premiere in which the 44-year-old harshly criticized Kim's "mood" on her big day.
During the tense conversation, Kourtney told Kim, "You can't stand someone else being the center of attention."
"You came to my wedding, you couldn't be happy, you complained from the first moment until you left.
"Forget the 'you couldn't be happy' thing. You couldn't be happy for me.
In response, Kim asked, "Why do you feel so bad about me? I want you to dig deep and find out why you hate me so much and why you are so angry at me because none of this ever happened."
Kim told Kourtney that she was acting like a "different person" and asked if she hated her family.
"We all talk about it," she said. "We're all in a group chat that says 'Not Kourtney'."
"Your children have even come to me with problems they are having and how you are doing."
After the revelation, the conversation escalated with Kourtney calling Kim a "narcissist" and accusing her of turning her friends and children against her.
"It's like you're just a fucking witch and I fucking hate you," she said through tears.
Fans took to X, the social network formerly known as Twitter, to slam the eldest Kardashian sister after the premiere aired.
"This 'woe is me' victim mentality is exhausting," Jade Gardner said. "It's very clear, she's the toxic sister. When it's not just about her, she attacks everyone else."
"Kourtney just has too much hater energy, she needs to leave the show if she despises everyone so damn much," Kitty commented.
KimmyKool agreed, writing, "If her happiness lies outside her family, then why is Kourtney Kardashian still filming? Like I thought that was her problem when she was at E! were? It's actually an annoying ARC."
"Kourtney really seems like a hater towards Kim," Lay wrote. "Kourtney is quick to pick everyone else apart but never sees what she's doing and is all about conflict and no resolution."
However, other users defended Kourtney, with @Mpho_Vuitton accusing Kim of "gaslighting" her sister.
"Kim telling Kourtney that her kids and friends are against her is so evil that she needs to check herself," Pamela told Clarity.
ShayMarie agreed, writing, "If Kim really cared about Kourtney, she wouldn't make her feel bad by saying that all her friends and kids are gossiping about her."
"Kourtney is absolutely right in everything she said about Kim. "I think she just wants Kim to be held accountable for her self-centeredness, just like Kourtney has held herself accountable for her past bullshit," Kiki said.
"Y'all say Kourtney is bitter every time she expresses how she feels about something! And yet Kim literally proved her point!," Deja wrote. "You give Kim too many passes! She's not innocent."
The Kardashians The fourth season returned on September 28th, and the ten-episode third season ended in July. Similar to the family's original reality show Keeping Up With the Kardashians (KUWTK), The series focuses on the daily lives of the Kardashian-Jenner clan, which also includes Khloe Kardashian, model Kendall Jenner, beauty mogul Kylie Jenner and her "momager" Kris Jenner.
Kim and Kourtney have had a tumultuous relationship over the years, with the two even having an argument in 2020. The argument over Kourtney's alleged "lack of work ethic" with Kim, Khloé and the KUWTK The crew confronted Kourtney about stepping away from the show to spend more time with her children – which resulted in her failing to complete the required number of hours of filming.
Kourtney and Khloé, 39, were previously close, but in one KUWTK In the confessional, she said her younger sister left her for Kim.
"For years it was Khloé and me against Kim," she told cameras. "And over the last maybe three years, the dynamic has just been so different with Kim and Khloé competing against me."
Newsweek emailed Kim and Kourtney Kardashian for comment.