KVUE Hosts Austin Mayoral Debate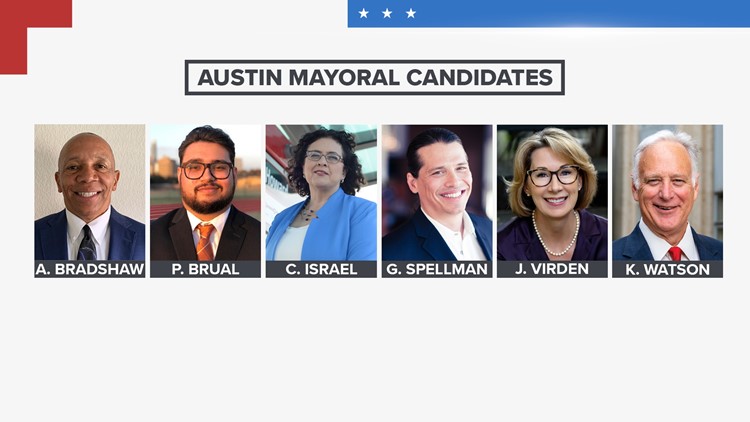 KVUE hosts a debate between all six candidates running for Austin's top job.
AUSTIN, Texas – The November election It's almost time for Austin residents to make a big decision: who will be the city's next mayor?
Current Mayor Steve Adler has reached his term limit and is no longer eligible for re-election. Now six candidates are vying for his successor.
To help voters make an informed decision when voting in this election, KVUE – with distribution partners KUT and the Austin American statesman – hosts a debate between all six mayoral candidates on Tuesday 18 October at 7pm
The full debate will be streamed on KVUE.com, our live stream KVUE YouTube page and on KVUE+, available on Amazon Fire TV and Roku.
RELATED: Meet the candidates running for mayor of Austin
Before the debate, KVUE asks the Austin community to submit the questions they want the candidates to answer. To make your voice heard click here or below to submit your question along with your first name and the Austin borough where you live.
KVUE cannot guarantee that your question will be asked during the debate, but we will try to include as many viewer questions as possible.
The deadline for registering to vote in Texas is October 11. Early voting runs from October 24th to November 4th. Election day is Tuesday November 8th.
In addition to electing a new mayor, some Austin residents have the option to elect their city council representative. Check out the candidates running for various city council seats.
Britny Eubank on social media: Twitter
'Just absolutely terrible' | Longtime Austin ISD teacher accused of verbal and emotional abuse and other violations
Three Texas hurricanes are among the top 10 costliest in US history
Austinites worried that the I-35 project could make mobility worse for minorities
https://www.kvue.com/article/news/politics/vote-texas/austin-mayor-debate-kvue-kut-statesman/269-e107db5f-c345-4d6e-8b0c-f04400871788 KVUE Hosts Austin Mayoral Debate