KVUE's Rob Evans is among those stranded following the Southwest Airlines cancellations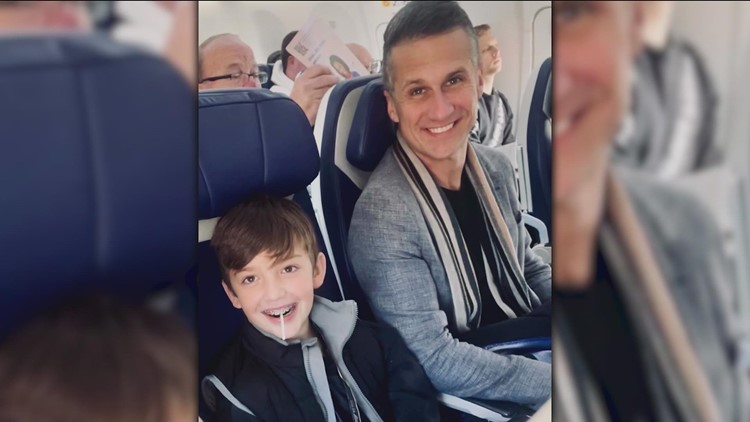 After all, life is a journey.
AUSTIN, Texas — By now you've heard the stories of Southwest Airlines passengers stranded after thousands of flights were canceled over the past week. And you may have noticed KVUEs Dominik Neuland fill in for Rob Evans at daybreak.
That's because Evans and his family were also stranded after their flight was canceled.
Here is a summary of the Evans family's ordeal, direct from Rob:
It started great. The flight to St. Louis wasn't that late. We were in time to surprise my family over dinner and to see the Christmas decorations in Old St. Charles – which I highly recommend.
Then it was time for a trip to the store to pick up some gifts for the kids at our family reunion.
Then we noticed that our flight was canceled on Christmas Day. No note – we just happened to look it up before heading to the airport.
No problem. Dominique said she could fill in at the anchor desk Monday, so it just meant more time to play in the snow. Although we hadn't packed for the occasion: you can see that from my daughter's high heels in the snow. I told her, but she's 13.
The next day we realized that this was a serious situation. Thousands of flights had been canceled. I was on hold at Southwest several times for more than an hour before the call ended. Then the app failed and the website was unresponsive. Another day stressed out how to get back with no answers from the airline.
Dominique stopped by again to fill in as we entered another day of confusion.
We knew then that we had to go back. My wife had to work on Wednesday, and instead of waiting to see if flights became available, we dumped our suitcases — in garbage bags — in the back of a snow-covered pickup and set off on a 15-hour drive.
I always tell my kids that life is a journey, not a destination, so we made sure to make the most of that journey. We have done things that would not have been possible if we had flown back. We stopped in Springfield, Missouri to see my little brother Tony. Then I visited my daughter's best friend from years ago – "Malala" as she used to call her. My goodness, they grew so fast.
We absolutely made a stop to see the lights in the middle of a small Oklahoma town. And by 3am we made it back to Austin – and back to KVUE.
Speaking of backs, my back is crying out for my 4×4 ride! A memory of a trip I will never forget.
https://www.kvue.com/article/travel/kvue-rob-evans-stranded-southwest-cancelations/269-2e9ab8be-02b5-4192-8b6c-76f94f140275 KVUE's Rob Evans is among those stranded following the Southwest Airlines cancellations