Las Vegas OBGYN charged with sexual misconduct and assault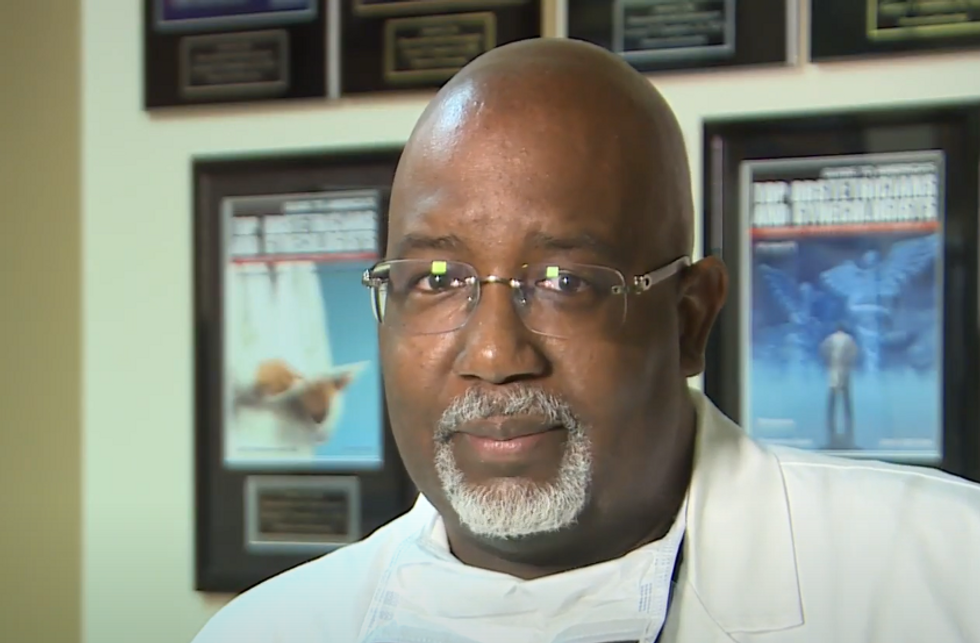 A Las Vegas gynecologist – who dubbed himself the "Vagina Whisperer" – has been charged with sexual misconduct by the Nevada Medical Board. The OBGYN doctor allegedly offered patients $1,000 to take photos of their genitals for his "portfolio" and has been accused by a woman of sexual assault at his office.
George Peter Chambers, MD, is an OBGYN physician board-licensed since 2003. Chambers is a"certified Specialist in sexual health medicine and specialized in cosmetic-gynecological surgeries such as labiaplasty and vaginal rejuvenation."
Chambers, 51, reportedly recently took down his practice's website. The website says of Chambers, "As a gynecologic surgeon who was raised and positively influenced by women, Dr. Chambers that all women want to look and feel beautiful."
Chambers was reportedly active on Instagram under the name "@vaginawhispererlasvegas" before deactivating the account on Thursday.
The daily beast reported: "His TikTok and Instagram accounts have shared videos of surgeries and closeups of vaginas. One showed Chambers dancing in his disposable surgical gowns past what appears to be a patient's body on a table. 'Dr. C is living his best life,' reads text overlaid on video. It is unclear whether the patients were aware that he was recording himself during these procedures."
"On Instagram, he promoted his services with images that looked like edited or filtered amateur photos of women's bodies," the outlet added. "A regular post on his account was 'Sexplained with Dr. C', who explored fetishes and sexual terminology that some audiences might find more appropriate for pornography than for a doctor's office. 'Why do some men steal women's panties?' A post in this series asked. Another explored the term 'cuckold'."
On Sept. 21, the Nevada State Board of Medical Examiners accused Chambers of "repeatedly exploiting his relationships with patients and violating patients' trust by engaging in sexual inappropriateness that constitutes sexual misconduct."
The board said Chambers had committed violations of the Medical Practice Act that "undermine the public's trust and respect for the medical profession."
"[Chambers] has demonstrated a pattern of failure to use the reasonable care, skill or knowledge normally used by obstetricians and gynecologists of good standing in having repeatedly committed sexual improprieties with more than one patient," the board said.
The board's complaint cites allegations made by three of his patients between 2018 and 2020.
The first patient came to Chambers to have a damaged perineum — the area between a woman's anus and vagina — surgically repaired. The 36-year-old woman said Chambers instructed her to keep her cell phone nearby so he could take photos during the exam. He is said to have taken 12 photos and asked for two to be texted to him Las Vegas Review Journal.
The Medical Association found that taking and sending the photos "disregarded Patient A's privacy."
The committee's complaint noted that one of the photos taken showed him inserting four fingers into her vagina.
The patient alleged Chambers used an inappropriate sexual slang term to describe his actions during the OBGYN appointment.
Weeks after her appointment with Chambers, the patient reportedly contacted the Las Vegas Metropolitan Police Department in November 2020. She is said to have made the contents of her mobile phone available to the police.
A detective reportedly contacted the woman in July 2021 to inform her that police had determined Chambers had not sexually assaulted her.
The patient believed the doctor's actions to be "sexual assault."
The woman reportedly told the detective, "I know what he put in my vagina. I felt it and Dr. Chambers told me and showed me exactly what it was."
The patient said she suffered "excruciating pain and damage" and was forced to visit her OBGYN six days later.
Patient A wrote a report on her experience with Chambers on Yelp in 2021: "What I have experienced is very concerning. To say that dr. Chambers was inappropriate to me would be a gross understatement in my opinion. Similar experiences are to come."
A second patient claimed Chambers offered her $1,000 to take nude photos of her. He reportedly told the 35-year-old woman that the nude photos were an "advertisement" for his practice.
The woman told The Daily Beast: "He said 'Have you ever posed naked?' with a creepy smile on his face. I said, "No, why are you asking?" And then he went on to tell me that he needed models who could pose nude for his ads for his labiaplasty website."
The woman added, "He was different from other OBGYNs. He wouldn't wait for me to ask a question about my sexual health, he would just fire off questions … I'm sitting in the room feeling like I have no choice but to answer those questions."
A third patient reportedly mentioned to Chambers that she was struggling financially. He reportedly responded by offering her $1,000 to pose nude during the October 2019 OBGYN appointment. Chambers told the 27-year-old woman that he was "looking for models to attend a photo session where photos would be taken of the models vaginal area and naked body," according to the board's complaint. The gynecologist also offered the woman a USB -Stick the "Boudoir" photos on.
The Medical Association said: "Patient C found this odd [Chambers] asked for photos of her vaginal area as a representative of his work because he had never performed any cosmetic surgery on her genitals."
Chambers has 20 days to respond to the complaint, and then the board will schedule a formal hearing into the allegations.
In April 2020, Chambers was featured in a local news segment of KLAS TV about how he kept his doctor's office open during the pandemic.

The local gynecologist keeps the office open and takes measures to ensure patient safety

www.youtube.com

https://www.theblaze.com/news/las-vegas-obgyn-sexual-misconduct Las Vegas OBGYN charged with sexual misconduct and assault