Leaked FSB letters reveal civil war among Putin's allies
Leaked emails from a Russian Federal Security Service (FSB) whistleblower shared with news weekreveal a civil war among President Vladimir Putin's closest allies as his invasion of Ukraine continues to falter.
Dubbed the Wind of Change, the agent regularly writes cables to Russian exile dissident Vladimir Osechkin, revealing anger and dissatisfaction within the FSB over the war that began when Putin invaded neighboring Ukraine on February 24.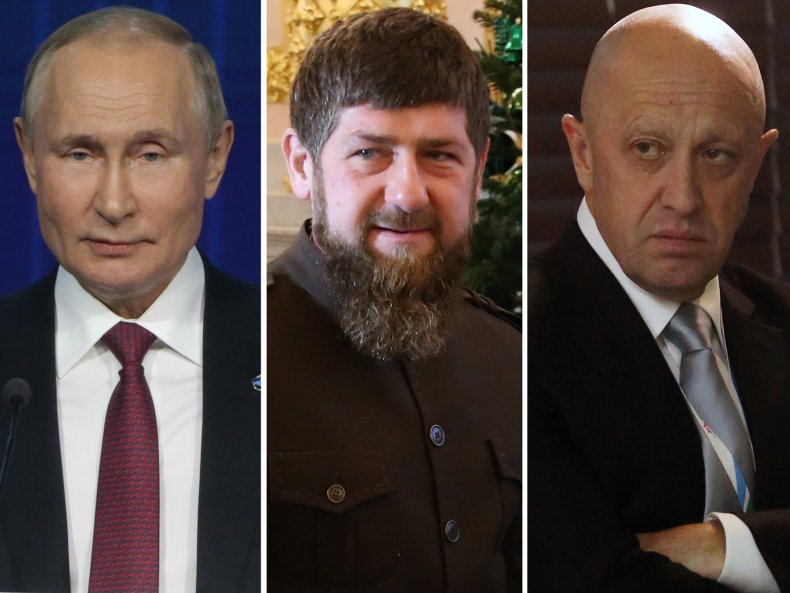 Osechkin is a Russian human rights activist who runs the anti-corruption website Gulagu.net.
The emails were fully shared with news week by Igor Sushko, executive director of the Wind of Change Research Group, a Washington-based nonprofit. Sushko has translated the correspondence from Russian to English since it began on March 4.
Previous FSB letters written by the whistleblower and published by Osechkin were analyzed by Christo Grozev, an FSB expert. He said he showed the emails to two FSB officials who "had no doubt it was written by a colleague".
"Abyss of Terror"
The agent's latest emails, dated November, describe the internal unrest and conflict in the Kremlin, predicting an "inevitable" civil war and that Russia will soon "descend into the abyss of terror" as people grow weary of war.
The whistleblower focuses on Yevgeny Prigozhin, a Putin ally and founder of the Wagner Group mercenary force, and Chechen leader Ramzan Kadyrov.
Both Prigozhin and Kadyrov have continued to criticize the way Putin's war against Ukraine is being handled and appeared to side with rare dissenting opinions, suggesting cracks may be forming in the Kremlin.
The US think tank Institute for the Study of War (ISW) also assessed at the end of October that Prigozhin and his military group "could pose a threat to Putin's rule".
However, the FSB agent said that in Russia "there is no model for a 'simple transfer of power'".
"There is no way to 'change everything' in Russia so that the country functions as a whole and does not plunge into the abyss of terror," read the email, outlining how a civil war in the country would play out .
"In the beginning we can get a random riot, with just looting and chaotic skirmishes between everyone. Let me try to explain: the struggle of security agencies against Prigozhin's structures, a real war against each other, is bad, but generally inevitable." They wrote.
"Or there will be regional battles over resource sharing. Or a tussle between different forces for control of regions or parts of the country (Russia)."
But the country could collapse in total chaos, the agent said.
mayhem, civil war
"Believe me – this is much scarier. I claim, and this is by no means the lonely private opinion of a humble (FSB) worker: we screwed up the country. We (FSB) screwed up the country not on February 24 when this whole affair started, but much earlier than February 24 became possible in principle."
"Chaos, civil war, collapse – yes, it's all ahead of us. It's inevitable," the FSB agent said. "Too many in Russia have passed the point of no return. They plan to be petty tsars in the territories they take. At least they think so."
The whistleblower hinted that it would not be easy for the Kremlin to repress Prigozhin if it threatened Putin's rule.
"And when the particularly 'smart' leaders in the FSB gloss over Prigozhin as not being systemic and say we have a structure that can neutralize him if necessary – that's nonsense."
The ISW said Prigozhin is effectively building a "constituency" of supporters and his own armed forces that are not under the direct control of Russia's military or defense ministry.
Prigozhin therefore has a uniquely advantageous position within Russia's state structure and information space, allowing him to expand his constituency in the country more easily than higher military command, allowing him to freely promote himself and his armed forces while remaining Kremlin officials or the Russian Armed forces criticize forces without fear of being pushed back, according to the think tank.
Domestic Terror
In a more urgent Nov. 8 email, FSB whistleblower Osechkin warned that Prigozhin is preparing brigades for "domestic terror" in Russia amid a spate of protests and unrest in several regions of Russia over reports that more than 1,000 Russians have been killed within three days during intense fighting in Ukraine.
During a meeting, Prigozhin's Wagner mercenaries were given powers and guaranteed a regime of impunity and tacit approval of acts of aggression and intimidation against those who protest the war and Putin's policies, the agent said.
"Our analysis and reports go up the chain and they understand there that popular discontent is growing exponentially and we cannot eradicate it through legal means," the whistleblower wrote.
"The service (FSB) is not ready for internal terror, and Prigozhin and Kadyrov think that their time has come and the moment has come to shine. Both realize that once they stop fighting and start a dialogue, both will no longer be necessary, Putin."
According to the agent, both Kadyrov and Prigozhin will then be "cut off from funding" and "return to their places in the system."
"But both characters can't take it anymore, each of them thinks they're indispensable."
The whistleblower said the FSB expects the pair to carry out a series of provocations slandering the service (FSB) and pointing to its "alleged inability to control the situation in the country".
"If everything goes according to Prigozhin's scenario, we will lose both control and the country," they concluded.
news week has asked the Russian Foreign Ministry for comment.
https://www.newsweek.com/leaked-fsb-letters-civial-war-putin-allies-prigozhin-kadyrov-1760455 Leaked FSB letters reveal civil war among Putin's allies