Liberals blame videotaped man for homophobia Police arrested a gay man for the crime.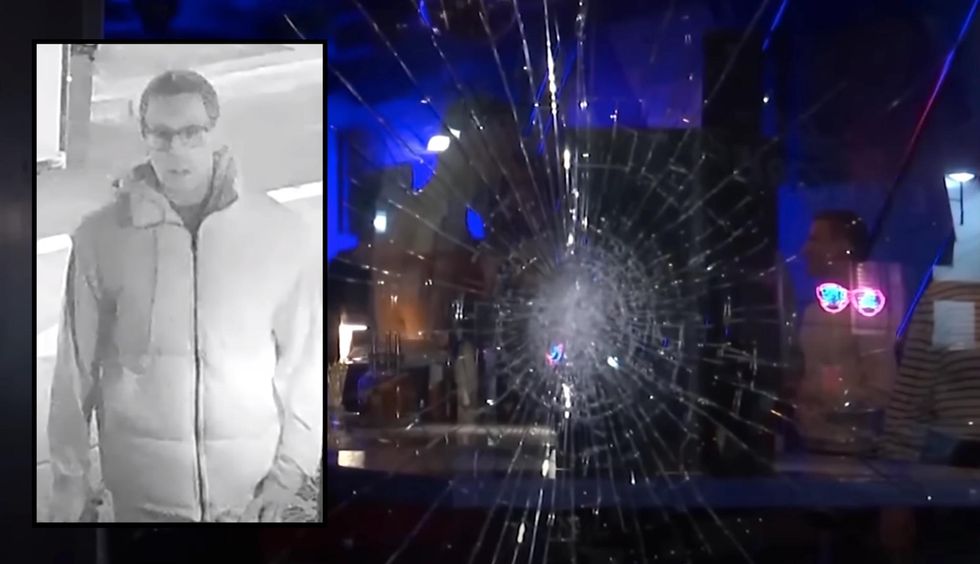 Some leftists blamed LGBTQ hatred and homophobia for vandalism against a gay club in New York City, but police arrested a suspect who said he was gay himself.
Surveillance video showed a bespectacled man walking to VERS, a gay bar in the Hells' Kitchen neighborhood, and throwing a brick at one of the windows while patrons looked on.
Police said there were a total of four incidents of vandalism against the same bar over a period of one month. They later released video of the suspect from a neighborhood bodega.
The bar's owner indicated that the incidents were linked to hatred of gay men.
"There's a lot of fear in the community of attacks across the country and we just want to make sure we're providing a safe space," David DeParolesa told WNBC-TV.
In an article at Gothamist was the attitude of the police criticized because they did not take the incident seriously enough as a possible hate crime.
DeParolesa told the outlet he told a police officer that they might have been attacked because they were a gay bar, and the officer replied, "Well, you can't know that."
The owner was upset that the police reacted so casually.
"It's typical that as gay people who have spaces that we've created, we have to protect ourselves," he added. "I'm not defeatist. In fact, I am more encouraged than ever."
However, some on social media were skeptical. After seeing video of the man throwing the brick, comedian Theo Vonn responded in a tweet, "That shape tells you it's an inside job." collected more than 303,000 likes.
On Tuesday, the police ruined the homophobic narrative she arrested 34-year-old Sean Kuilan, who identified as a gay man.
NYPD detective chief James Essig said Kuilan told them he was taking "revenge" on the gay bar on behalf of a friend of his who was feuding with the business.
"Right now we have no reason to believe that is the case [a hate crime]' said Vinegar.
Police have only charged Kuilan with three of the four incidents of vandalism because there is no video of the fourth incident. He was charged with three counts of criminal mischief, three counts of reckless endangerment and three counts of criminal possession of a weapon.
"I'm gay myself," Kuilan told reporters as he was escorted into court by police.
Here's more about the incident:

Video shows man throwing bricks at NYC gay bar

www.youtube.com

https://www.theblaze.com/news/vers-gay-bar-attack-hoax Liberals blame videotaped man for homophobia Police arrested a gay man for the crime.