Lisa Barlow reveals who she trusts most at RHOSLC
The real housewives of Salt Lake City is again to the delight of many viewers. But it's not the same RHOSLC that fans remember. Great for some, not ideal for others. Jen Shah is out and Monica Garcia is in.
In addition, Angie Katsanevas was promoted from a housewives friend to a full-time housewife. Still, some things never change. Most fans would agree that they are thrilled Lisa Barlow back for season 4.
As one of the OGs, Lisa brings a lot to the show. And she got the chance to talk about all the Season 4 happenings on an episode of Watch What Happens Live. After filming Season 4 wrapped, Andy Cohen asked Lisa a few things afterwards.
Lisa couldn't just decide on a stirrer
In a game of "Lisa Alto," the RHOSLC star was able to choose from the bobbing heads of her co-stars in response to a series of questions. Her first question was who she trusted the most at the moment. She sang "Angie". Whom she trusted the least, she sang "Monica."
When asked who caused the most excitement this season, she hesitated, saying, "I think there's more than one person." And there are a lot of them." But she ended up with "Monica." Andy also asked who was most engaged with Meredith Marks this season. Lisa said: "I would say Heather [Gay]." She also said that Angie and Meredith shed the most tears this season.
More than anyone, Lisa expected to get into trouble with Meredith. She also acknowledged that Heather has done a great job when it comes to fashion. When asked who missed Jen the most, Lisa sang, without batting an eyelid, "Nobody." Andy asked if anyone was in touch with Jen, and Lisa said no, "As far as I know… your assistants, about one in three."
Real Housewives of Salt Lake City continues Tuesdays at 9/8 p.m. on Bravo.
TELL US – WHAT DO YOU THINK ABOUT LISA'S DYNAMICS WITH THE REST OF THE CAST? What do you think of the cast overall?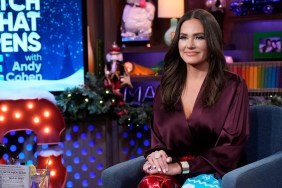 Find out what Seth and Meredith are fighting about.
We didn't see that coming.
Jen who?