Luis Ruelas responds to a follower's criticism of his marriage to Teresa Giudice
Real Housewives of New Jersey stars Teresa Giudice And Luis Ruelas had a hard summer. During a charity softball game filmed for RHONJ, Luis was repeatedly booed. And not from Melissa Gorga or Joe Gorga! I guess his scorched earth appearance didn't go over well with fans. Maybe Bo Dietl can get to the bottom of what went wrong.
Teresa and Luis vacationed on Lake Lucerne and in Zurich, Switzerland. The lovebirds documented their trip on social media. When Teresa posted a photo with a Starbucks drink outside the cafe, some trolls dragged her for it. Is nothing sacred?
Luis defends his love for Teresa
Luis posted photos and videos from a romantic helicopter ride on his Instagram. He also added a nice message for his wife. "Teresa[,] I am very fortunate to have you as my loving and supportive partner. Thank you from the bottom of my heart for coming here to Switzerland with me!!" Luis wrote in the caption.
"Words cannot fully express how grateful I am to have you by my side. You are my rock, my biggest cheerleader and my most loyal confidant," Luis said. "I adore you more than words can express and I am eternally grateful for your love and support. Here's to many more adventures as we shape our future together! With all my love and appreciation," he added.
Jennifer Aydin wrote in the comments of Luis' loved-up post, "I love this." And Teresa chimed in, commenting, "I love living life with you."
A user criticized Teresa and Luis, so he clapped back. "We live our lives, it's not my fault [you're] watching us like a hawk. Go ahead and be happy in your own life… Unfollow us[,] I don't care what you think and that's okay," Luis wrote.
Tell us – what do you think of Luis' contribution to Teresa? Will he get a setback from the reunification?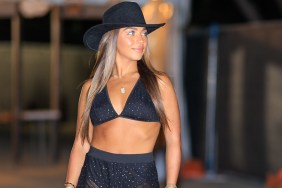 Your friendship is worth its weight in gold.
Teresa had no interest in trolling.
Meghan could be right.