Magic: The Gathering's Fallout-themed set will make you fall in love with Dogmeat all over again
Wizards of the Coast gave us our first real look Fallout-themed Magic: The Gathering set, and there are certainly some good looking cards in there.
Clearly, at some point, someone at Wizards of the Coast realized that people really like unique Magic: The Gathering sets. Additionally, people like collaborations, and the card game's latest take on Fallout seems like a good fit given the video game's tabletop RPG inspirations. Yesterday, during a Magic: The Gathering livestream, a number of cards from the upcoming set were shown off, including the decks you can purchase; And yes, there is a Commander deck based on Dogmeat, our favorite furry friend.
Honestly, there are a lot of good looking cards in this set. For one, Dogmeat's card, whose full title is incredibly aptly named "Dogmeat, Ever Loyal," features some beautiful artwork from the best pup when it comes to getting a very caring looking pet. There's also a Commander deck themed around The Wise Mothman, which also features some strong artwork, alongside the impressive-looking Caesar-themed deck, as well as the science-focused deck featuring Dr. Madison Li.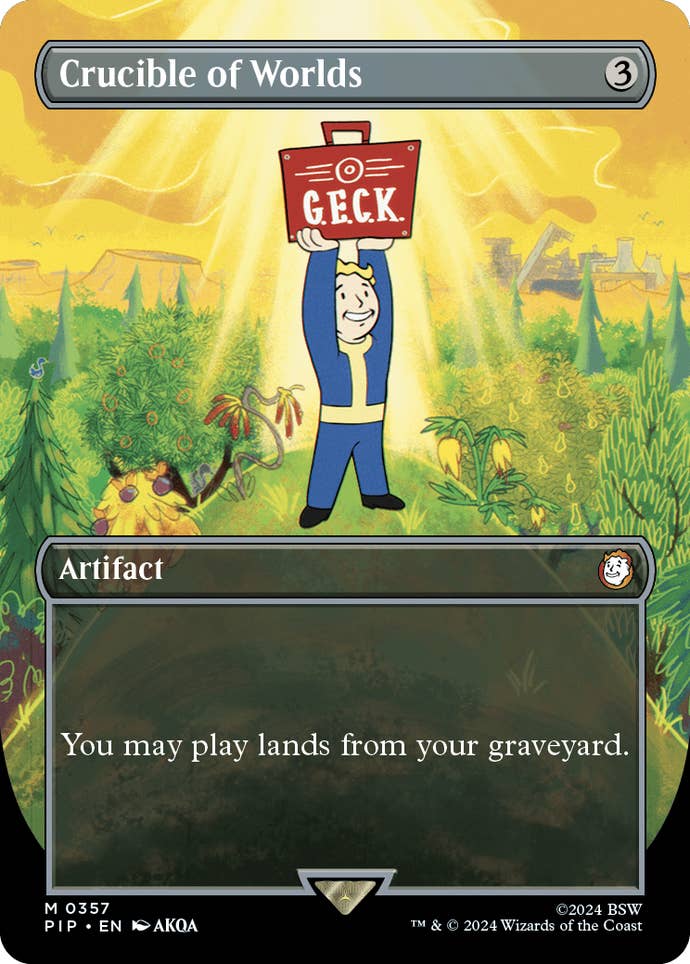 Of course, there will also be some booster packs to collect that include some alternate graphical versions of the aforementioned cards, all more focused on the Pip-Boy UI, which I'm a big fan of. Perhaps best of all are the borderless Vault Boy cards, which are reminiscent of the game's Perks graphics.
Unfortunately, those of you who want to grab this set right away will have to wait for the global release on March 8th next year. However, the preview starts a little earlier on February 20th, so the wait overall won't be too long. At least this set won't leave people desperately searching for the one ring.