Man accused of sexually abusing adult daughter after first meeting her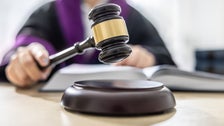 A Florida man faces charges of Assault, incest and possession of drug paraphernalia after he allegedly sexually abused his adult daughter on their first meeting in years.
The attack reportedly happened in August 2021, but Ronald Antinore, 53, was not taken into custody by Clearwater Police until May 1. according to the Law & Crime blog.
Antinore is the biological father of the alleged victim, who was put up for adoption when he was an infant, according to a Clearwater Police affidavit.
Decades later, the woman learned that Antinore was her father and contacted him via social media. Finally, in 2021, she traveled to Florida to meet him in person.
During the visit Antinore and the woman allegedly "consumed alcoholic beverages throughout the day," the affidavit said.
They reportedly returned to a hotel room at the Clarion Inn & Suites Central and took LSD together there. An affidavit obtained from The Smoking Gun says, "The victim indicated that with the effects of the acid, she was no longer able to physically resist the accused." At this point, the man forced himself on her, the affidavit states.
Only after the acid wore off was the woman able to get out of bed and lock herself in the bathroom, the affidavit said. She called her boyfriend, who called both the hotel and the Clearwater Police Department.
After a When a private security officer showed up to the room a short time later, police said Antinore was "disturbed and fled the area."