Man berated for kicking sister out of 'couples shower' for wearing white
A man who asked if it was wrong to kick his sister out of a "couples shower" for wearing white has got his answer.
u/Necessary-Coconut280 posted on Reddit's r/AmITeA**hole forum and asked if he was wrong "because he supported my fiancee when she asked my sister to leave our shower over her outfit?" He received over 3,900 upvotes and 2,500 comments for his post in 10 hours — although most of the comments weren't on his page.
He says he and his fiancée had a "couples shower" — which he describes in the comments as "like a bridal shower but mixed up because we're not living in 1950 and the men can't celebrate."
Although there were some difficulties between the families, mainly due to his mother and her husband, the Original Poster (OP) family was invited. Though things were "a little strained," OP felt it was a good compromise since his fiancé didn't want her at their traditional bridal shower.
The "couples shower" was a casual barbecue, wrote u/Necessary-Coconut280. His sister wore a white crop top, jeans and sandals. Everything seemed fine until his fiancé and her mother pulled him aside, explaining that they found his sister's outfit "disrespectful" because she wore white, which was "bad style".
When they confronted the OR's sister, she thought they were "crazy" and that she could wear whatever she liked. The OP's future mother-in-law called his mother, who sided with her daughter, and asked if the fiancee was "really that insecure." The fiancé countered that "it was about respect," and if u/Necessary-Coconut280's sister didn't know about the faux pas, "at least she was able to accept it gracefully."
The fiancée then started crying and asked the OR nurse to leave as she was "rolling her eyes".
"She said she was tired of feeling hooked and she knows my mom secretly wants to ruin the wedding," wrote u/Necessary-Coconut280.
The OP's mother protested, calling him and his fiancée "damn stupid," and an argument ensued, resulting in the OP's mother and sister leaving and his sister blocking him on social media.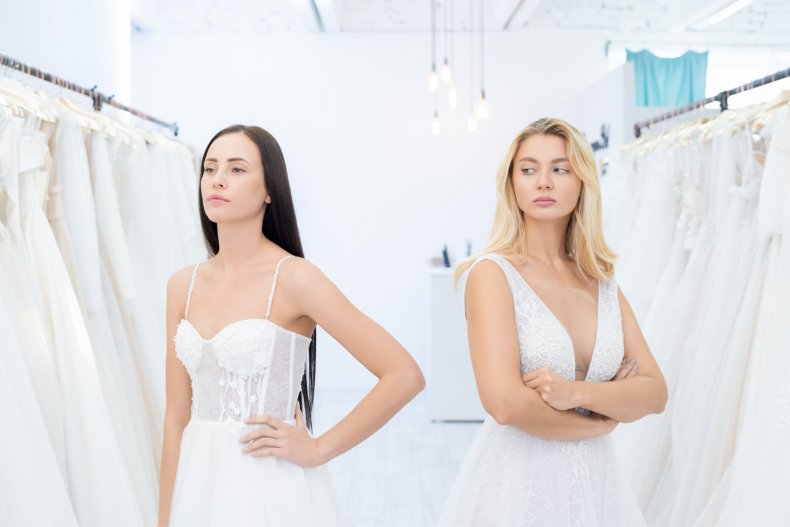 While it's traditionally taboo to wear white to a wedding unless you're the bride, brides The magazine says it's also not recommended to wear white to a bridal shower unless the bride specifically requests it.
"The same goes for the color black, it's a bit daring. Any color in between is fair game," Jonathan Vorasane, director of e-commerce at Fame and Partners, told the magazine in 2021. He suggests "wearing something you'd wear with an upscale weekend brunch."
However, it appears that these rules are more informal as the top rated comment from someone who says they are the "kid of a wedding planner" and still works in the industry said that they are unaware of such a rule was.
"The rules of etiquette say you can't wear white to a wedding. There is NO RULE that says you can't wear white to a couples party, especially hot summer BBQ. UNLESS the invites sent out by this couple state so on the dress code. Did your fiancé state the dress code for the shower in the invitations? No? Then your fiancé and MIL are literally looking for any reason to stir up drama with your family," u/Fuzzy-Ad559 wrote, earning over 16,500 upvotes. "She was crying because your sister was rolling her eyes? Let's talk about drama. [You're the A**hole]. And your fiancé and your mother are [a**holes] and absolutely insecure and sensitive."
"Yes, that's a tip-of-the-iceberg thing, both in a hoo boy OP good luck with this marriage sense, but also in a sense of — it could be." [Everyone Sucks Here] since OP's mother and sister didn't de-escalate, but this all needs to be viewed in the context of the fiancé and MIL's general personality, and the fact that they chose this fight and decided to bring conflict into their nice party for no good reason ( or rather because they set out to piss off OP's family)" wrote u/yet_another_sock.
"A white crop top on a teenager. Do people know the groom so little that they think he's marrying his teenage sister?" u/TotallyWonderWoman wrote.
"[On the Other Hand]there's a rule that says I should never wear white to a BBQ…but that's more of a personal issue," joked u/islaDelSoul.
"[You're the A**hole] and your MIL too. It was a casual BBQ event, not the wedding. You can't tell people they can't wear white to the BBQ. It's not like she rolled into the venue in a big, baggy white dress," wrote u/SnazzySusieQ.
news week contacted u/Necessary-Coconut280 for comment.
https://www.newsweek.com/man-lambasted-kicking-sister-out-couples-shower-wearing-white-1705446 Man berated for kicking sister out of 'couples shower' for wearing white