Man caught urinating and defecation on ex-wife's grave: 'Bad breakup'
A New Jersey man was caught urinating on his ex-wife's grave nearly five decades after their divorce.
Michael Andrew Murphy was horrified as he captured the September 18 desecration. The burial site in Tappan Reformed Church Cemetery in Orangetown, New York was the resting place of his mother, Linda Torello.
Murphy told local news outlets that his mother's ex-husband left feces and urine on his mother's gravestone for months, apparently to hold on to a grudge dating back to the 1970s. The suspect, 68-year-old Dean Eichler, was briefly married to Torello before they divorced in 1974.
"There has been no contact since 1976. I know they were married a year. They had a bad breakup," Murphy told News 12 New Jersey. "This shouldn't happen to anyone."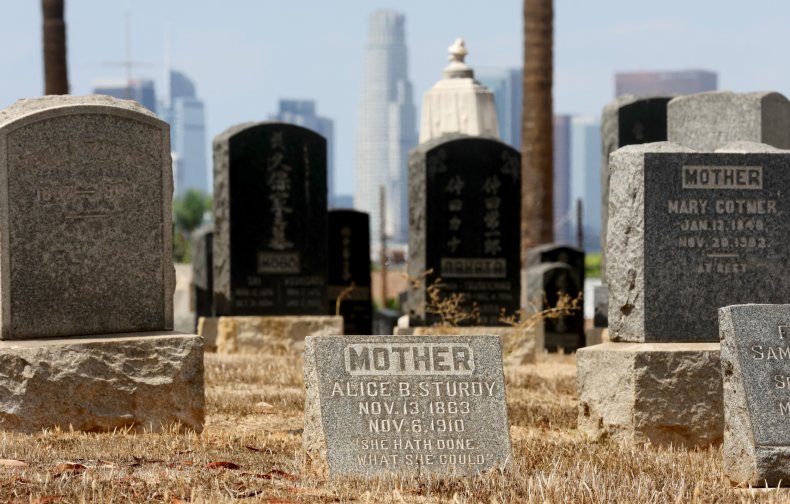 He said he and his sister found deli bags filled with feces at their mother's grave in April. They thought the first one might have been dropped by a careless dog walker, but after the second bag they called the police.
The cemetery allowed them to set up cameras that recently showed Eichler approaching the grave while his current wife waited in the car. The perpetrator showed up around 6:15 a.m. for four days in a row, but the images weren't entirely clear.
The next day, September 18, Murphy visited the cemetery and filmed the man on his cell phone. The sight made him sick, he said on Facebook, where he posted the incriminating video.
"It breaks mine [heart]' his caption said. "A man from Bergen County, New Jersey, would leave bags of poop and piss on my mother's gravestone almost every morning, like a normal routine, assisted by his wife. Plus, we have evidence for weeks and months."
In a follow-up video, he said: "I'm sick. My sisters, my brothers, we are exhausted."
The Orangetown Police Department confirmed to the Daily Voice that Eichler has received a subpoena for urinating in public and detectives are investigating further, and there is a possibility of more serious charges.
Cemetery desecration, which may involve theft or destruction of a property, grave, or burial site, is a criminal offense in New York State if the damage exceeds $250.
Murphy reached that damage threshold after hiring a hazardous materials company to remove his mother's urine-soaked decorations, have her gravestone professionally cleaned and some of the surrounding grass replaced, he told the Daily Voice.
news week reached out to Murphy and the Orangetown Police Department for comment.
https://www.newsweek.com/man-caught-urinating-defecating-ex-wifes-grave-1746767 Man caught urinating and defecation on ex-wife's grave: 'Bad breakup'