Man dismembered police station with chainsaw, dangling his children near second floor window: police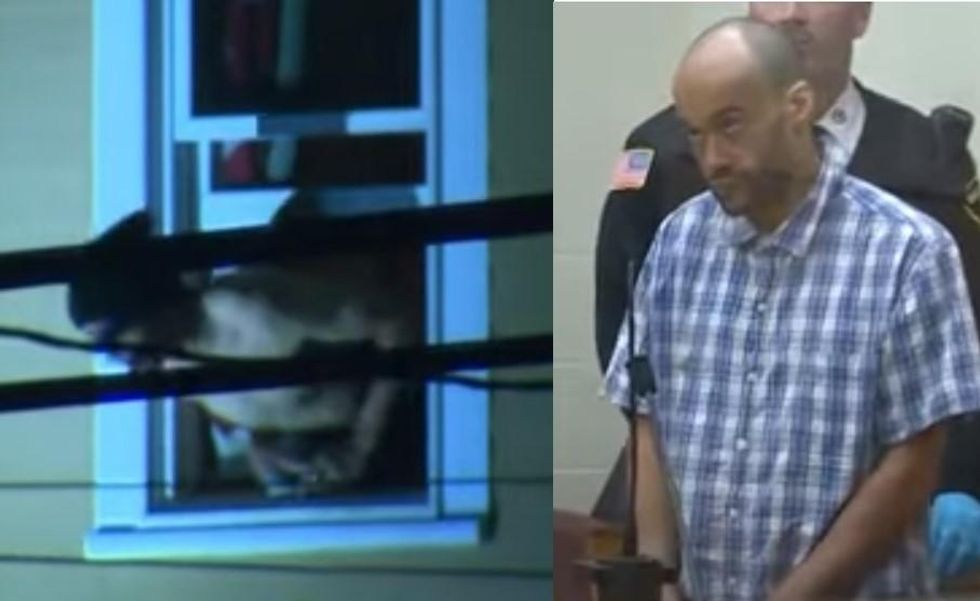 A Massachusetts man familiar with local law enforcement is again in custody after reportedly attacking a police station with a chainsaw and then engaging in a prolonged standoff with police in which he endangered his two young children .
Last Sunday was reportedly a long day for Brien Buckley, 35, of Cohasset, Massachusetts, on the state's East Coast, about 25 miles southeast of Boston. Around 2:30 p.m. that afternoon, Buckley was driving his red dump truck to the Cohasset Police Department, where he crashed into a tree on public property, then got out of his vehicle, grabbed a gas-powered chainsaw, spun it several times, and then allegedly used it heavy to cause property damage. police claim that Buckley used the chainsaw to damage a package left outside the train station and carved the words "Good luck" on the front door.
A civilian employee working behind the lobby's front desk managed to lock herself in a nearby office and pressed the panic button to alert officers to the incident. "The chain worked. He tried to break through the security door in the lobby. The receptionist was there and she fled for her own safety," he said William Quigleythe Cohasset Police Chief.
At that point, the suspect left police premises and returned to his home, where his two young children were. He then reportedly barricaded himself in the residence, engaging law enforcement in an hours-long standoff.
During the standoff, Buckley hurled various projectiles – including toys, blood-soaked toilet paper and a knife – at police while continuing to wield the chainsaw and scream incoherently, reports showed. By that time, officers from several law enforcement agencies had gathered at Buckley's home and everyone was increasingly concerned for the safety of the two young children, both under the age of 5, who were being held captive inside.
At one point, Buckley reportedly dangled both children near, or maybe even outside, the second-story window of his apartment. Although police say they tried to resolve the situation.peaceful' they determined that they could no longer compromise the safety of the children.
"After hours of negotiation, the man became more unpredictable to the point where SWAT wardens asked permission to enter the home due to the increasingly clear and present danger to the children," police said said.
Buckley reportedly resisted arrest, so police used a taser to subdue him. They took him into custody and charged him with assault with dangerous weapon, triple criminal damage, double child endangerment, resisting arrest, driving in a dangerous manner, operating a motor vehicle without permission, disorderly conduct, disturbing the peace, and wanton destruction of a tree.
He showed up on Monday Quincy District Court, where he continued to mutter to himself throughout the proceedings. The judge then ordered Buckley to undergo a full psychiatric evaluation at Bridgewater Hospital. Buckley is scheduled to appear in court again on January 6.
After police arrested Buckley, his two children were immediately placed in the care of their mother and grandfather, who were at the scene. Neither child was physically injured in the incident. The mother had contacted police back in August to report that Buckley had allegedly tried to choke her during an argument. Buckley had been arrested and charged with domestic assault and assault and domestic assault and assault with strangulation for that alleged incident. The status of this case remains unknown.
https://www.theblaze.com/news/man-wielding-chainsaw-carved-up-police-station-dangled-his-children-near-second-story-window-police Man dismembered police station with chainsaw, dangling his children near second floor window: police