Man dragged down for berating friend with garlic sensitivity for not using it
A man who was pissed that the host of a dinner party didn't use garlic because he can't eat it is being dragged online.
The dinner party host, u/ProfessionHour6393, shared his story with the popular Reddit forum r/AmITeA**hole and received 6,100 upvotes and 1,500 comments in 10 hours for his post: "[Am I The A**hole] for having a dinner party and not using garlic on the meal while still drinking alcohol?"
The original poster (OP) says that since the weather was nice, they felt like throwing a dinner party for their friends and their significant other. One of the significant others in question is "Rick", who the OP gets along with, but notes that he's "one of those guys who tries to get the most bizarre things into his entire personality".
The bizarre thing at stake is that Rick is a "huge garlic guy" who "makes a huge deal out of how he uses 400 cloves of garlic in a dish." However, OP suffers from GERD or Gastroesophageal Reflux Disease, also known as Acid Reflux. GERD is a condition in which stomach acid or bile leaks up the esophagus and causes a burning chest pain, according to the Mayo Clinic.
Garlic and alcohol are the OP's worst GERD triggers and as such do not eat garlic and did not use it in any of the dinner party food. But the food wasn't boring; They say they have "a pantry full of other spices in the world and I'm not shy about using them."
Although the OP's food was popular at the party, Rick said that while he liked it, he was "missing something" and asked if they had put enough garlic in it. When OP said they didn't put one in, he got angry.
"He scoffed and said, 'How can you not use the simplest ingredient for most meals? That's why it tastes that way." He made an exaggerated face and put the food down," wrote u/ProfessionHour6393. "He then asked why I would throw a dinner party if I had such a limited palate and that he wouldn't invite people to Thanksgiving dinner if he were a vegetarian."
When the OP explained that they had GERD and that garlic was one of their main triggers, he pointed out that they were drinking alcohol, another trigger. OP replied that it was a flat hard seltzer as that was the only alcohol they could drink – and they only drank one in case it triggered their GERD anyway.
It's been a month since the dinner party, and Rick is still grumbling about the lack of garlic.
"He keeps insisting it was a stupid/selfish host to drink the alcohol but not cook with the garlic because garlic goes with everything," wrote u/ProfessionalHour6393, "so now I'm curious and thought, That would be a fun low stakes question for you all."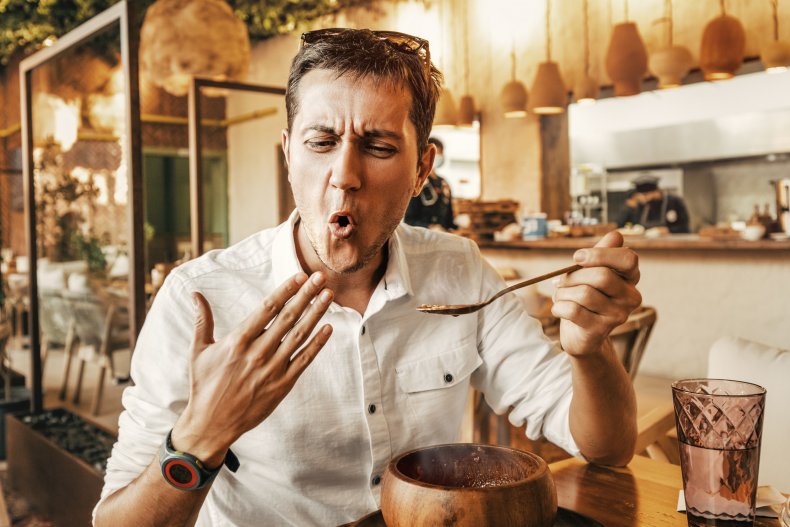 Although garlic is the most popular herb in Europe and Africa, according to Urban Cultivator, it's also one of the most common triggers for GERD, according to Healthline. Although every case of GERD is different — for example, the OP says that while onions often bother other sufferers, they can safely eat cooked onions — common foods that trigger GERD include spicy foods, citrus fruits, tomatoes, and garlic. Tomatoes and citrus fruits are acidic and can make stomach acid worse.
Alcohol is another common trigger, but so is fizzy drinks — likely why the OP let his seltzer go flat — caffeinated drinks and coffee, even if it's decaffeinated, according to Healthline.
news week has written a number of stories of misbehavior at dinner parties, including a guest who believed the host lived an enchanting life, saying the host "needed a tragedy," a woman begging her boyfriend's party to leave so he and his friends "could talk shop" and another person who was called "disrespectful" for bringing their own food because the hosts refused to prepare everything they could eat.
Redditors sided with the OP and exclaimed "Rick" for his behavior.
"[Not the A**hole], super rude to be invited to dinner and to criticize the dishes at all. Either compliment them if it's good, or say nothing. The fact that he insisted, even after you told him why, makes him that [a**hole]" wrote u/holy__fudge in the top rated comment with 11,000 upvotes.
"OP should still invite him but serve him garlic. Garlic ONLY. Several whole roasted garlic bulbs and nothing else. Now is that enough garlic for you Rick???" u/Sasspishus suggested.
"Wait don't suggest that, roasted garlic is delicious haha. I spread it like butter on toast (and with butter too). Rick didn't deserve it!" u/kfarrel3 countered.
"I'm a garlic fiend and I would never pull that dubbed bull**t when someone else is cooking," wrote u/AccousticMotorboat.
news week contacted u/ProfessionHour6393 for comment.
https://www.newsweek.com/man-dragged-berating-friend-garlic-sensitivity-not-using-it-1735046 Man dragged down for berating friend with garlic sensitivity for not using it