Man hears screams and finds woman chained in abandoned house
A passer-by who heard a cry for help from an abandoned house in Chicago last weekend found a woman chained inside.
The man, Antione Dobine, was walking down a street in the 11900 block in South Eggleston on Saturday night, May 21, when he heard a voice coming from an abandoned house and banging on the building's boarded-up windows and immediately called police.
"I was walking down the street and I heard someone banging on the windows," Dobine said in a Facebook livestream, which was followed by over 400,000 people. "There is a lady trapped in this house," he added.
"She screamed 'help' and I said, 'Who's in there with you?' and I asked her various questions," Dobine said, as quoted by ABC7. "That's when I called 911."
When police officers arrived at the scene, they broke into the abandoned house and found a 36-year-old woman chained inside.
The woman, whose name was not released by police, said she was kidnapped and taken to the basement of the abandoned house, where she was raped, handcuffed and chained. She said she was there four or five days before being rescued by police. Neighbors who spoke to ABC7 said they had seen the victim in the area before and thought she was homeless.
According to Fox 12, the woman was taken to a hospital from where she was discharged in good condition on Sunday morning.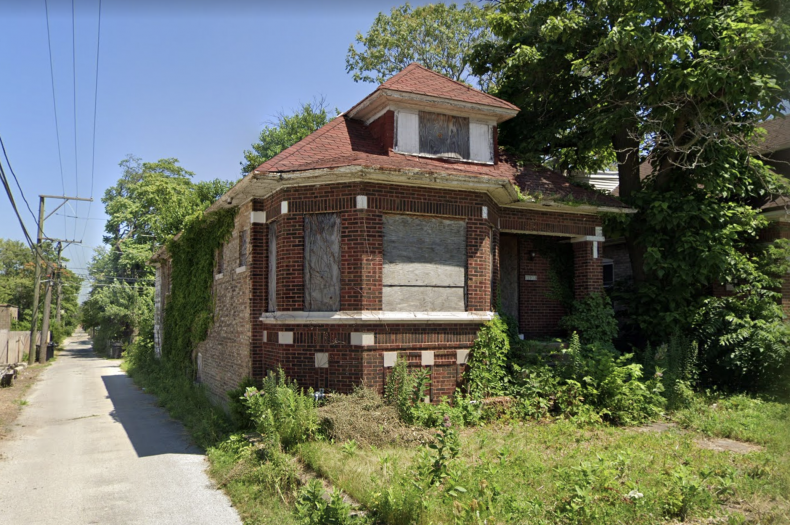 Police are investigating the case as sexual assault and kidnapping and are currently looking for the suspect. "We are using all of our resources to bring this offender to justice," said Chicago Police Superintendent David Brown. Nobody is in custody yet.
Brown said at a news conference about weekend violence in the city that the incident involving the kidnapped woman was a priority for the department.
People who lived in the same neighborhood as the abandoned house where the woman was being held by her kidnapper said the building had been vacant for more than 30 years – not uncommon in the area.
Fox 12 said the home where the woman was being held is one of half a dozen homes in the 11900 block of South Eggleston that are abandoned. The incident prompts neighbors to raise the issue of abandoned and neglected properties in the area and call for action to improve the neighborhood's situation.
news week has asked the Chicago Police Department for comment.
https://www.newsweek.com/man-hears-screaming-finds-woman-chained-abandoned-house-1709416 Man hears screams and finds woman chained in abandoned house