Man in yellow and blue shoes accused of supporting Ukrainians and fined in Moscow
A Moscow court on Thursday fined a man for wearing yellow and blue sneakers, which Russian authorities said was a sign of support for Ukraine.
The man, who has not been identified, was accused of carrying "political tools" on his feet when he was found and arrested by local authorities in the center of the country's capital near a protest against Russia's war in Ukraine, reports said Radio FreeEurope.
However, the man's lawyer, Ilya Utkin, said his 40-year-old client was not involved in the protest and was buying gifts for his family, according to Radio Free Europe, which also cited reports from Russian news sources The Insider and MSK1.ru.
The man was sentenced to a fine of 10,000 rubles in Butyrsky District Court and was originally stopped by police on March 6 — a day when large anti-war demonstrations were taking place in the city, arresting nearly 2,000 people, Radio Free Europe noted.
news week tried to reach Utkin for comment.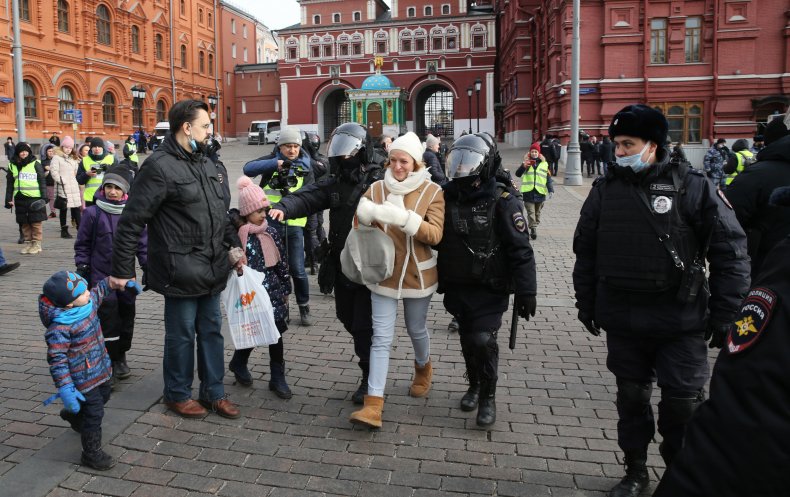 The fine in Moscow comes after Russia's invasion of Ukraine dragged on for nearly two months and after the country arrested thousands of people accused of protesting against the war.
news week previously reported that on March 6, the day of the man's arrest, police arrested more than 4,640 people taking part in anti-war demonstrations in 65 cities, according to OVD-Info, a human rights organization that tracks the number of arrests in Russia the nation. "At least 30 instances of protesters being beaten have been confirmed and it is likely that number is much higher. There are many videos on social media showing police officers beating anti-war protesters," reads an OVD-Info update on March 6.
At the beginning of the war, the Russian parliament passed a law banning the dissemination of information about the invasion or the Russian military, which the government considered "false". Violators of the law face up to 15 years in prison. The move prompted major media organizations like the BBC and CNN to halt work in the country to protect their employees.
In another recent incident in January, a hearing-impaired man who only communicates using sign language was fined after being accused of shouting protest slogans at anti-government demonstrations.
Apologia Protesta (Apology of the Protest), a human rights organization, claimed that the man was not involved in the protests in support of Kremlin critic Alexei Navalny that day, but was on his way to a handicraft shop.
Meanwhile, in March, some anti-war protesters were arrested for holding up blank signs at public demonstrations.
https://www.newsweek.com/man-wearing-blue-yellow-shoes-seen-supporting-ukraine-fined-moscow-1700181 Man in yellow and blue shoes accused of supporting Ukrainians and fined in Moscow