Man pleads guilty before federal grand jury to filming himself: 'I'm about to lie'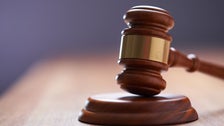 A member of the federal grand jury on Tuesday pleaded guilty to obstruction of justice after allegedly filming himself in the courtroom while serving on a panel in Washington, DC and posting the videos to his public Instagram feed.
Prosecutors said Washington resident Alexander Hamilton, 28, admitted to posting the videos to his Instagram story after being sworn in on Sept. 9, 2022.
One of the videos allegedly documents his taking the oath. With his right hand raised, Hamilton looks at his iPhone and says, "I'm about to lie," according to court records.
He was arrested in November after undergoing an interview with FBI agents the previous month.
Prosecutors said Hamilton has around 10,400 followers on his Instagram page. As usual, he was instructed to keep everything he saw and heard on the grand jury secret until a judge ruled otherwise. The grand jurors were told they could only discuss the cases among themselves.
However, according to prosecutors, Hamilton released secretly recorded videos of the proceedings, using one of two phones he owned. Jurors are expected to stow their phones in lockers before arriving at the grand jury's premises.
"Sometimes you have to give false information… Just to see who's talking too much," Hamilton wrote in a text post, according to court records. Another post showed video of the procedure overlaid with images of rats.
The prosecutors said a statement that Hamilton "has shown in numerous messages an awareness" that he knew what he was doing was not allowed. In a hearing scheduled for November 29, they asked a federal judge to impose a prison sentence of between six months and three years.
HuffPost reached out to the Justice Department for clarity on whether Hamilton's conduct affected any of the cases being tried by its panel, but did not immediately receive a response.