Man steals school bus, packs dead deer in it and strips naked in police chase
A man was arrested naked Tuesday in Pennsylvania after allegedly stealing a school bus to transport a dead deer and then leading police on a chase through Carroll Township.
The suspect exited the vehicle after a pursuit in which he nearly flipped the bus, the Carroll Township Police Department (CTPD) said. Officials said they later arrested 25-year-old Tony Saunders, who told them he planned a dead deer on the bus to use as fertilizer.
According to a crime report published on their website, the Carroll Township Police Department was notified at 7:10 a.m. local time of "a stolen bus that was observed in the Dillsburg area."
The bus had been reported stolen from Abbottstown and officials across York and Adams County were asked to "stay alert".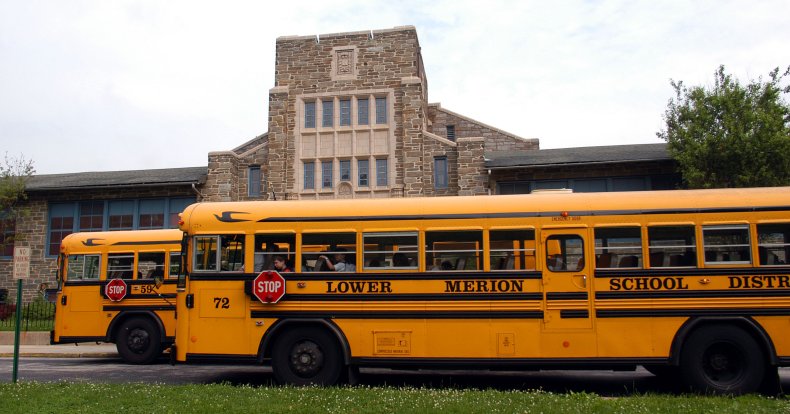 The CTPD said its officers spotted a school bus in a Giant Foods and Rite Aid parking lot with its lights repeatedly turning on and off. After it matched the description of the stolen vehicle, they began tracking it.
The police report said: "Officers caught up with the bus, which was traveling north on Route 15 near the Mechanicsburg/Bowmansdale exit.
"Officials tried to stop the school bus and the bus ended up stopping near the intersection of the PA Turnpike. The bus pulled away almost immediately and continued north on Route 15, weaving in and out of lanes.
"After the bus exited for Lower Allen Dr. passed, the bus exited the freeway and ran over a berm, nearly overturning the bus. The bus continued onto Gettysburg Rd. in Lower Allen Township, where it turned into a nearby neighborhood and fled on foot through a wooded area after getting off the bus."
Officers later came across a suspicious man while searching "the area of ​​nearby railroad tracks" who was running from police.
The suspect "let her through parking lots and busy traffic areas" and stripped naked during the chase. He was eventually arrested naked and admitted to driving the stolen bus earlier in the day, said police, who identified him as Tony Saunders.
Saunders "said that he took the vehicle and put a deceased deer in the back of the bus and would drive the deer to his home and use the deceased deer as fertilizer for his garden."
He was taken to York Central Booking and charged with fleeing an officer, receiving stolen property, resisting arrest and reckless driving.