Man who owned pot machines pleads guilty to gun crime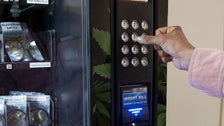 Marcellus Cornwell, who has a criminal record, admitted he could not own guns due to previous convictions. He faces up to 10 years in prison.
"The number of guns this defendant possessed despite being a prohibited person, combined with his drug dealing, makes his behavior even more egregious," said US Attorney Dawn Ison.
Agents discovered marijuana, ammunition and 18 firearms in the basement in 2022. Cornwell has not been charged with a drug crime.
Cornwell "owned and operated the marijuana dispenser attached to the residence for four years and made approximately $2,000 a day," the Bureau of Alcohol, Tobacco, Firearms and Explosives said in a court filing last year.