Man with body armor and high-power ammunition arrested outside US Capitol
US Capitol Police (USCP) Friday morning arrested a man who was found in a vehicle outside the Capitol wearing body armor, a fake badge, a BB gun and several high-capacity magazines, among other ammunition.
A patrol officer began speaking to the man, identified as 53-year-old Jerome Felipe of Flint, Michigan, who was parked in his 2017 Dodge Charger near the Peace Circle on the west side of the Capitol around 5 a.m., the said USCP with a statement on its website.
Felipe presented Capitol Police officers with a fake badge that said "Department of INTERPOL" and claimed he was a detective for the agency.
Capitol Police officials have been concerned about the security of the US Capitol since January 6, 2021, when supporters of former President Donald Trump stormed the Capitol to overturn the results of the 2020 presidential election.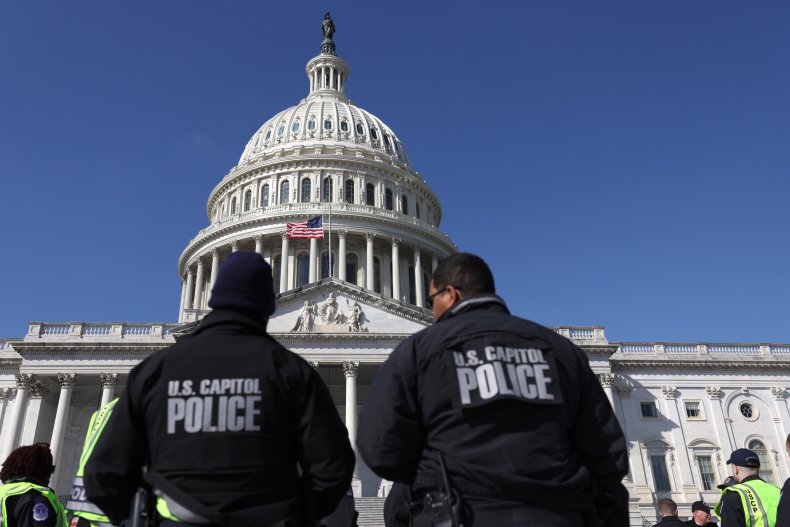 The Michigan man, who the USCP says is a retired New York police officer, also had two ballistic vests in his car, which were found by Capitol Police who searched his vehicle. The USCP said Felipe had no other weapons.
"Investigators are still working to determine the reason why Felipe was parked near the US Capitol," the USCP said in the statement, adding that he was charged with unlawful possession of high-capacity magazines and unregistered ammunition was charged.
In December, US Capitol Police Sergeant Aquilino Gonell said officials were concerned about another possible attack on the Capitol. Gonell has protected the Capitol and sustained injuries during last year's riots.
"A lot of officials think about the possibility that this is an annual or every four year thing, which is why officials like me are open about it because we don't want to go through that again," Gonell said during an NPR interview.
"We risked our lives to give them enough time to get to safety. And supposedly some of them were in contact with some of the rioters and with some of the coordinators or knew what was going to happen.
"And it makes you question their motives and their loyalty to the country as we fought a brutal battle against the mob that could have cost me my life and my dear fellow officers as well."
In early December, the US Senate unanimously passed legislation that would allow the USCP to request assistance in emergencies without prior authorization. This means that in emergencies, the chief of the Capitol Police can only request assistance from the DC National Guard or federal law enforcement without seeking approval from the USCP Board of Directors.
news week reached out to US Capitol Police for comment.
https://www.newsweek.com/man-arrested-body-armor-high-capacity-ammo-outside-us-capitol-1712715 Man with body armor and high-power ammunition arrested outside US Capitol