Mann says he was reprimanded by boss after being touched by co-worker
In a now-viral Reddit post, a man said he was reprimanded by his boss for "deliberately verbally abusing" a co-worker.
The man posted on the Antiwork forums under the username u/EdvinRama and said his colleague was "touched [him] as a joke," which made him "uncomfortable." In response, he told his colleague to "never come near [his] body again" – a reaction that his manager allegedly objected to.
The post received over 10,900 upvotes and more than 1,600 comments from Redditors who couldn't agree on whether u/EdvinRama should file a report with Human Resources (HR) or "let it go" and find a new job.
Physical contact at work
Amy Epstein Feldman, general counsel for Judge Group Inc., says people should keep in mind that each person has different physical boundaries when interacting with their peers.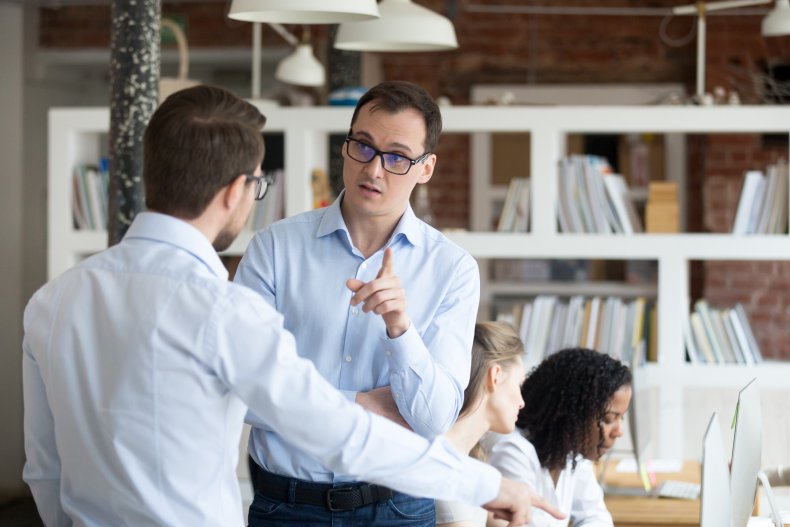 "There are forms of touch that are seldom considered offensive and can be misunderstood… A slap on the back or shoulder, [or] a two-handed handshake while looking someone in the eye can give a colleague goosebumps. The person initiating the contact doesn't mean to be offensive, but the person being touched is often very offended," Feldman told CareerBuilder.
"Any touch — even a pat on the back — before you know someone is too personal for strangers," she added. "So make sure you really know your colleague before engaging in any physical contact, even a high five."
According to Feldman, when a person receives unwanted physical contact from a co-worker, they should assert their boundaries in a direct and non-confrontational manner.
"Try a joke … or a non-confrontational statement ("I'm not a big hugger because I'm uncomfortable")," she advised.
If that doesn't work, Feldman says, the situation should be escalated to either a manager or Human Resources.
'anti-work'
In his post, u/EdvinRama said he was attending a Zoom meeting at his desk when his colleague approached him from behind.
"[He] stayed close to me (I assume his joke was 'How long until he realizes') and then he touched me," said u/EdvinRama without saying where he was touched. "I was so uncomfortable that I said to him, 'Don't touch me/Why are you touching me/Don't ever come near my body again.'"
Then, overhearing the interaction, his manager went up to him and scolded him for his "tone."
"[Our manager] just arrived [over]… asking me to check my tone because the way I'm speaking wasn't okay," wrote u/EdvinRama. "I told them [had touched] me while I was…focused on a meeting…but they didn't move and I took the heat."
Redditors respond
Many editors called the colleague's behavior "inappropriate" and encouraged him to report both his colleague and his manager to Human Resources.
"Harsh tones and language are the appropriate responses to inappropriate behavior and your boss needs to understand that, or he's part of the hostile culture and HR needs to know," said u/BangBangMeatMachine.
"I'm so sorry this happened to you… Be sure to report it no matter what in case he does this to anyone else," u/Recent-Accident9702 wrote.
However, others said he should just start looking for another job.
"Let it be, old man. Obviously nothing will come of it no matter how angry you are and how high up the food chain you are. Quitting will be your best bet," said u/DigBeginning6903.
"This may not be a winnable situation based on what you said," added u/EsqChior. "Take PTO if you have one and quit without notice if you get another job."
news week contacted u/EdvinRama for comment.
More viral posts
Redditors blasted an employee on Wednesday for asking his colleagues to contribute $100 each to their boss's Christmas present. Also on Wednesday, commenters blasted a manager for expecting his employee to respond to an after-hours email.
And on Monday, commentators slammed a boss who refused to let an employee miss a shift because of a doctor's appointment.
https://www.newsweek.com/man-says-he-was-reprimanded-boss-after-being-touched-co-worker-1739591 Mann says he was reprimanded by boss after being touched by co-worker