Maps of Russian-controlled Ukraine with detailed key battlefields
New maps have shown details of the Russian offensive in Ukraine's eastern region as the war between the two countries continues.
The British Ministry of Defense published a new map on twitter on Tuesday highlighting the areas of fighting in Ukraine.
The map showed that the central and eastern groupings of Russian forces in Ukraine are likely to advance towards Izium. The southern grouping of Russian forces is expected to advance toward Dontesk and Severodnetsk
The map also showed that the area between Zaporizhia and Donetsk remains a key battleground, while a vast area between Mykolaiv and Nikopol is also hotly contested.
Maps produced by the Institute for the Study of War and the Critical Threats Project, an American Enterprise Institute project focused on understanding threats and tracking global challenges, also show that Russia may be changing its strategy in eastern Ukraine changes.
Critical Threats said Russia's main effort initially was to encircle the area between Izium, Donetsk and Luhansk oblasts, according to the map produced by Britain's MoD, but that could change.
"Russian forces have likely abandoned efforts to encircle large Ukrainian formations in eastern Ukraine and are instead trying to secure smaller encirclements and focus on Severodnetsk," Critical Threats said in its Key Takeaways section of its May 24 report.
"This change in Russian approach allows for gradual advances, but at the cost of abandoning several intended lines of advance and deep encirclement of Ukrainian forces in eastern Ukraine intended by the Kremlin.
"Ukrainian forces are likely conducting a controlled retreat southwest of Popasna near Bakhmut to protect Ukrainian supply lines against Russian offensives in southeast Bakhmut."
The report also highlighted other notable incidents on May 24 in Ukraine.
"The Russian occupation authorities in Mariupol announced that they will hold war crimes trials of Ukrainian soldiers in Mariupol, likely to strengthen judicial control over the city and support false Kremlin narratives on Ukrainian crimes.
"Russian forces are attempting to recapture Ternova in northern Kharkiv Oblast and trying to stabilize defensive positions near the Russian border against the Ukrainian counter-offensive."
According to a BBC report, Ukrainian Foreign Minister Dmytro Kuleba warned against a Russian offensive in the Donbass region.
Kuleba called the offensive "the largest on European soil since the Second World War".
He also called on Ukraine's allies to speed up supplies of arms and ammunition to the country. He stressed the importance of missile launch systems, long-range artillery and armored personnel carriers.
"[TheRussianoffensiveintheDonbasisaruthlessbattle"saidonTwitteraccordingtotheBBC[DierussischeOffensiveimDonbassisteinrücksichtsloserKampf"sagteaufTwitternachAngabenderBBC[TheRussianoffensiveintheDonbasisaruthlessbattle"saidonTwitteraccordingtotheBBC
news week has asked the Russian and Ukrainian defense ministries for comments.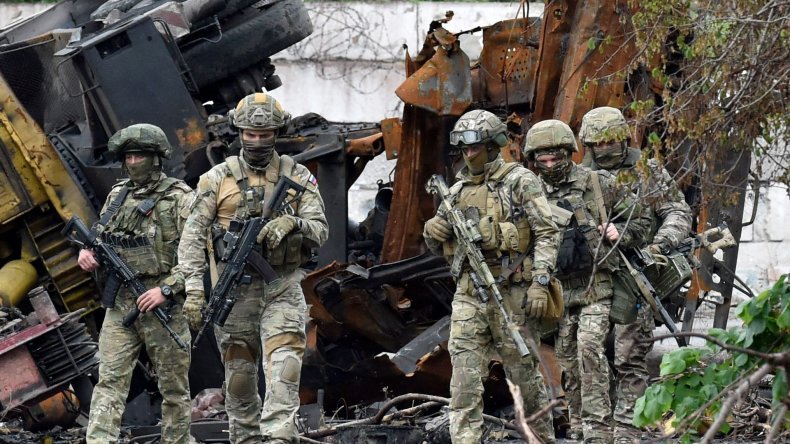 https://www.newsweek.com/russia-ukraine-battleground-donbas-map-battlefield-controlled-areas-latest-1709528 Maps of Russian-controlled Ukraine with detailed key battlefields