Mara Gay proposes some Republicans elected on the basis of racism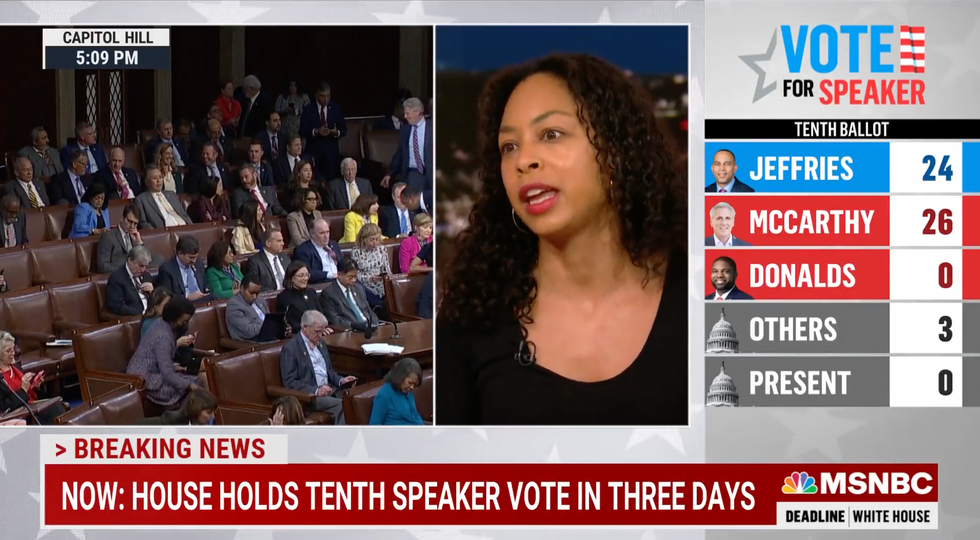 Mara Gay, a New York Times editor, suggested Thursday that some of the Republicans who opposed Kevin McCarthy's run for the House of Representatives were elected because of racism.
During an appearance on MSNBC, Gay claims that some of the Republican figures "were elected on the basis of a litmus test to stem the tide of diversity in the country, the browning of America, and the fears that accompany it."
Earlier in the segment, moderator Nicolle Wallace called the shutdown a "tragedy for American democracy."
While a significant majority of the House GOP has backed McCarthy, more than a dozen Republicans have opposed him and prevented McCarthy from winning the Speaker's Gavel. So far, McCarthy has missed a whopping 11 votes, including three on Tuesday, three on Wednesday and five on Thursday. The Democrats voted for Hakeem Jeffries of New York.
In many of the Voices This week, Republicans who oppose McCarthy voted for Florida's Byron Donalds, who is black — Donalds voted for McCarthy twice but has since voted against him.
Democrat Cori Bush of Missouri, who is black, has called Donalds a "prop."
"FWIW, @ByronDonalds is not a historic candidate for Speaker. He's a prop. Despite being black, he supports a political agenda aimed at upholding and maintaining white supremacy. His name in the mix isn't progress — it's pathetic," Bush said tweeted On Wednesday.
Former President Donald Trump has urged Republicans to rally around McCarthy, but Florida's Matt Gaetz claimed that Trump's endorsement of McCarthy represents "the worst personnel decision President Trump has ever made," while Colorado's Lauren Boebert said that Trump should call McCarthy to withdraw from the competition. Gaetz tuned that Trump will be speaker of the House of Representatives on some votes on Thursday.
https://www.theblaze.com/news/mara-gay-republicans-elected-racism Mara Gay proposes some Republicans elected on the basis of racism