Marco Rubio is confronted for voting no on Sandy Relief when he asks for Ian Aid
Senator Marco Rubio, a Republican from Florida, was confronted by CNN anchor Dana Bash on Sunday about his earlier votes against aid to help northeastern states recover from Hurricane Sandy in 2012 as he is currently on hurricane aid Ian urges.
Hurricane Ian made landfall in Florida on Wednesday, leaving a trail of devastation in areas such as Fort Myers, where it first made landfall. The massive storm brought high winds and flooding that killed at least 44 people. However, local authorities expect the death toll to continue rising as Florida residents realize the full impact of the storm.
Relief efforts are already underway, and Florida officials are pushing for more federal aid to help rebuild their communities. Last week, President Joe Biden approved some federal aid from FEMA to the state. On Friday, Rubio co-wrote a letter to Senate leaders with Senator Rick Scott, also a Florida Republican, urging an aid package.
"Hurricane Ian will be remembered and investigated as one of the most devastating hurricanes in the United States," the letter said. "Communities across Florida have been completely destroyed and lives changed forever."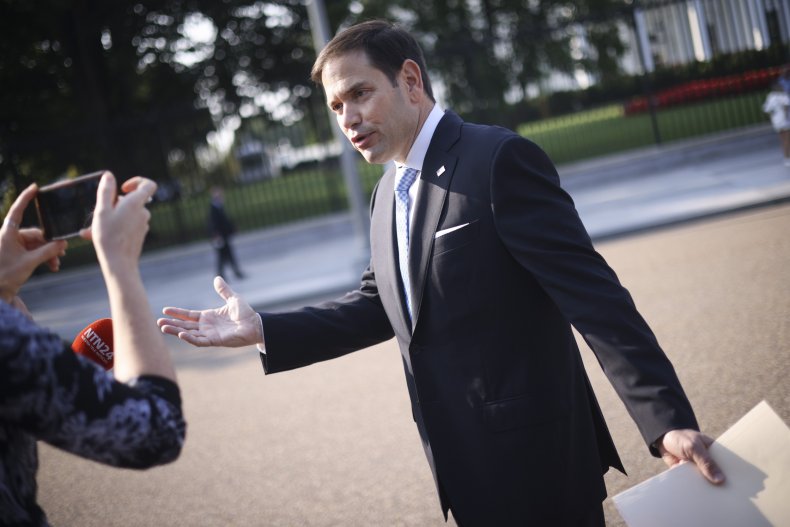 The letter continues: "A robust and timely federal response, including through additional programs and funding, will be required to ensure that adequate resources are allocated to rebuild the capacity of critical infrastructure and public services and to keep our fellow citizens in To help Florida rebuild their lives."
On Sunday, during a discussion about state of the nation, Bash pressed Rubio for his previous voices against aid to states — including New York, New Jersey and Connecticut — hit by Hurricane Sandy in 2012.
"Why would other senators vote for relief for your state if you didn't vote for a package to help your state?" asked Bash.
The senator defended his earlier votes against a sweeping $60 billion relief bill for Hurricane Sandy, saying it was filled with "pork," referring to the term for independent funding of spending projects, which he said that they had nothing to do with disaster relief.
"I have always voted for hurricane and disaster relief. I even voted for it with no salary constraint," he said. "What I didn't vote for with Sandy is that they included things like a roof for a museum in Washington, DC [and] for fishing in Alaska. It was stuffed with things that have nothing to do with disaster relief."
Bash clarified that the museum's roof was damaged by the hurricane and the fishery is related to another disaster. She urged Rubio whether he would vote against Hurricane Ian relief if it "contains anything that smells like pork."
"Sure. I will fight against having pork in it. That's the key. We shouldn't have it in there because it undermines our ability to come back and do that in the future," Rubio said.
Light utility package supported by Rubio
After Hurricane Sandy struck several northeastern states and caused extensive damage, Rubio voted against the $60.4 billion relief package requested by then-President Barack Obama. He said, as he did on Sunday, that the package included too much unnecessary spending that didn't benefit storm-hit communities.
However, he voted for a slimmed-down $24 billion aid package that was believed not to include the "pork" in the larger bill. The bill was eventually defeated by Senate Democrats — as well as a handful of Republicans, some of whom supported a larger bill.
Upon reaching news week On Sunday, a Rubio spokesman indicated his vote for the $24 billion aid package.
Senator Scott calls the federal government "key partner" in the relief
Scott, during an NBC News appearance, addressed members of Congress who may oppose aid shipments to help recover from Hurricane Ian. Meet the press On Sunday.
"The federal government is a partner in this, and I learned that as governor," said the senator. "The federal government is an important partner in helping families, helping businesses and helping businesses get back to normal. But you don't want to waste money."
https://www.newsweek.com/marco-rubio-confronted-voting-no-sandy-relief-he-asks-ian-aid-1748222 Marco Rubio is confronted for voting no on Sandy Relief when he asks for Ian Aid