Maren Morris zings Jason Aldean with Small Town Po
Maren Morris appeared to take a swipe at fellow country artist Jason Aldean – with whom she previously had a public disagreement – this week as she announced plans for a new music project.
On Thursday, Morris announced a short video on Instagram It featured a billboard that read, "Welcome to our perfect small town, from sunrise to sunset." The post also included a photo of the artist looking confusedly at the sky.
"I'm done filling a cup with a hole in the bottom," she wrote in the caption.
The clip appears to be a reference to Aldean's "Try That in a Small Town," which is drawing backlash for lyrics that evoke vigilantism and xenophobia.
The accompanying music video for "Try That in a Small Town" was equally politically charged, featuring footage of what appeared to be a Black Lives Matter protest intercut with scenes of Aldean performing on the steps a courthouse in Tennessee This was the site of a historic lynching. Less than a month after the video was released, it appeared to have been edited again, with the protest clips removed.
The controversy had little impact on the song's success. In July: "Try this in a small town" crowned The Billboard Hot 100 charts, which list the 100 most popular songs in the United States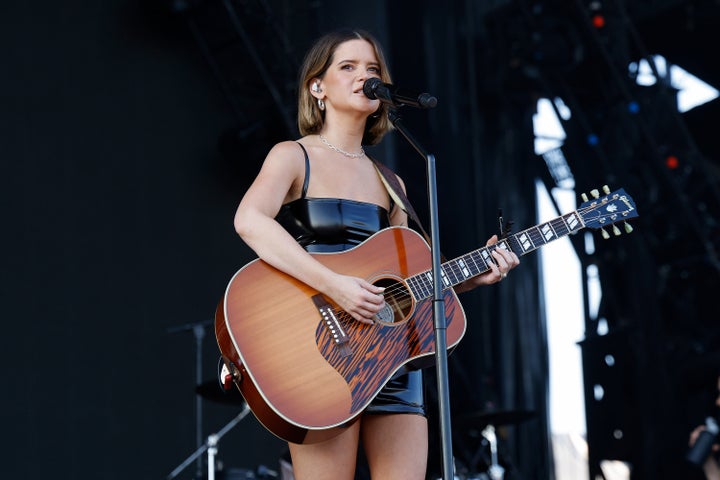 As of Friday afternoon, Morris' post had received more than 31,000 likes as well as praise from fans and other musicians, including Brandi Carlile and Shane McAnally.
"[Morris] is a boss and a hero who isn't afraid to be a bigger person and stand up to senseless bullies!" one person wrote on Instagram.
Added: "This little town is full of shadows. I love that for us."
A representative for Morris did not immediately respond to HuffPost's request for comment.
The Grammy winner is one of Nashville's most outspoken advocates for LGBTQ+ rights. Last year, she engaged in a social media spat with Aldean and his wife Brittany over the conservative couple's comments about transgender children.
When asked about her exchange with Brittany Aldean, Morris later responded told the Los Angeles Times: "I have no kindness when it comes to people, especially children, making fun of them for questioning their identity."
"The whole 'when they go low, we go high' thing doesn't work with these people," she added. "Any resistance movement is not settled with kind words."