Marjorie Taylor Greene Delists Boebert and Accuses GOP of Lying
A new comment by Rep. Marjorie Taylor Greene lists a handful of Republicans She says they are lying regarding the GOP opposition to minority leader Kevin McCarthy becoming Speaker of the House, but it omits one particular member from that list: Lauren Boebert.
Greene and Boebert have been in a war of words lately for a number of reasons.
Greene has backed McCarthy for taking the gavel once Congress reconvenes in early January, while Boebert has said she doesn't believe in McCarthy's ability to lead the faction – going as far as to say she wouldn't vote for him , if there was no mechanism to remove it restored.
Boebert told the Daily Caller Monday that Greene "blindly follows Kevin McCarthy" and also comedically attacked some of Greene's controversial statements, such as that about "Jewish space lasers."
Greene wrote her Daily Caller op-ed on Wednesday, accusing representatives Matt Gaetz, Bob Good, Andy Biggs, Ralph Norman and Matt Rosendale – who she dubbed the "Never Kevin Five" – ​​of "lying to the base."
Boebert's name was not among them, although she has repeatedly hesitated to endorse McCarthy in the role currently held by Nancy Pelosi.
When asked why Boebert wasn't specifically mentioned, Greene spokesman Nick Dyer said news week that "it's about the five members going up against McCarthy, not people floating in the wind."
Greene took offense at each of the five, calling it "ironic" that one of her "favorite members," Gaetz, compared a McCarthy speakership to that of former Speaker Paul Ryan — due to the fact that Gaetz's first-ever vote in Congress was support by Ryan.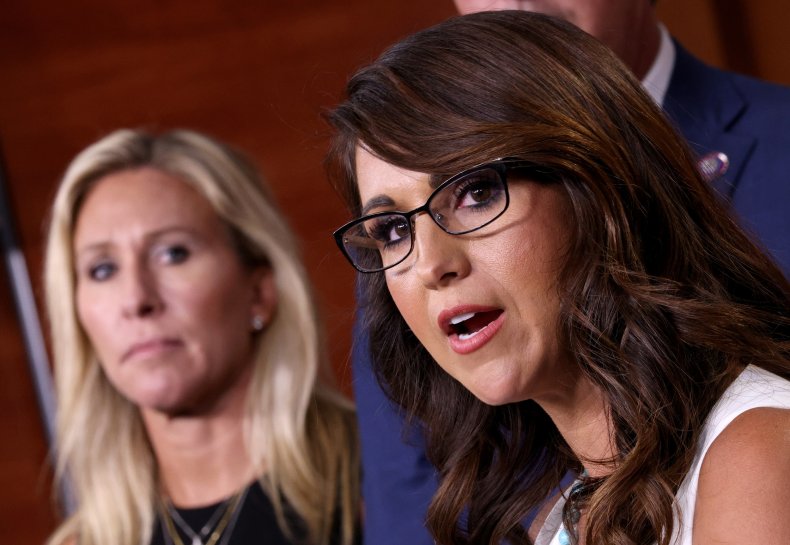 Gaetz recently said that Greene would be a "great speaker," while adding in the same breath that "Kevin McCarthy is the embodiment of Congress' worst qualities."
"We had full GOP control and President Trump was pen in hand ready to sign America First into law," Greene wrote. "This Republican failure is why I ran for Congress."
"All things considered, Matt Gaetz is one of my favorite members of Congress," she added. "America needs his talent and intelligence to work with Jim Jordan on the Judiciary Committee investigation, not blow things up before we begin."
Calling the other oppositionists "strong conservatives and men I respect," Greene added that McCarthy "has been preparing for months and has everything ready not only to be a speaker but to lead the Capitol."
When asked to comment on Greene's comment, Gaetz spokesman Joel Valdez referred news week on the Florida congressman's own comment, also published by the Daily Caller on Wednesday.
Gaetz's comment doesn't hold back against McCarthy, claiming that McCarthy's donors support vaccination mandates and that McCarthy has "no ideology." He also says the California representative "bought into the Russia scam" in 2016.
Greene and other McCarthy supporters are never mentioned by name, but rather as a collective.
"The McCarthy camp is about Kevin needing to be accepted because 'we need to avoid chaos,'" Gaetz wrote. "Chaos for who exactly? The special interests who count on McCarthy as their lapdog?"
He gave one too tweet Link to his comment mentioning Greene by name.
"I remain a huge supporter and admirer of @mtgreenee", he wrote. "She's a true fighter in a city where bravery is rare. Kevin didn't deserve it."
Boebert's most recent comment on the matter was part of a December 20 announcement tweet on the omnibus bill she has repeatedly slammed saying she would not vote for it due to earmarking and the price tag.
news week reached out to Boebert's office for comment.
https://www.newsweek.com/marjorie-taylor-greene-leaves-boebert-off-list-accusing-gop-lying-1768895 Marjorie Taylor Greene Delists Boebert and Accuses GOP of Lying