Marjorie Taylor Greene tears up Gaetz and Boebert after tense meeting: 'Furious'
Rep. Marjorie Taylor Greene called out Conservative allies Tuesday after a tense meeting over the House Speaker race.
Tensions within the GOP came to a head as House Republicans disagreed over who should be elected to the lower house of Congress after the party regained a narrow majority in last year's midterm elections.
California Rep. Kevin McCarthy has secured the majority of his party's support, but a handful of holdouts threatened to derail his candidacy. McCarthy could only lose four votes due to the narrow Republican majority.
Anti-McCarthy Republicans guaranteed rule changes aimed at boosting the Conservatives' standing in the House of Representatives, but many still refused to back him in the hours leading up to the speakership vote. Aiming to garner support, McCarthy held a meeting Tuesday that quickly became tense.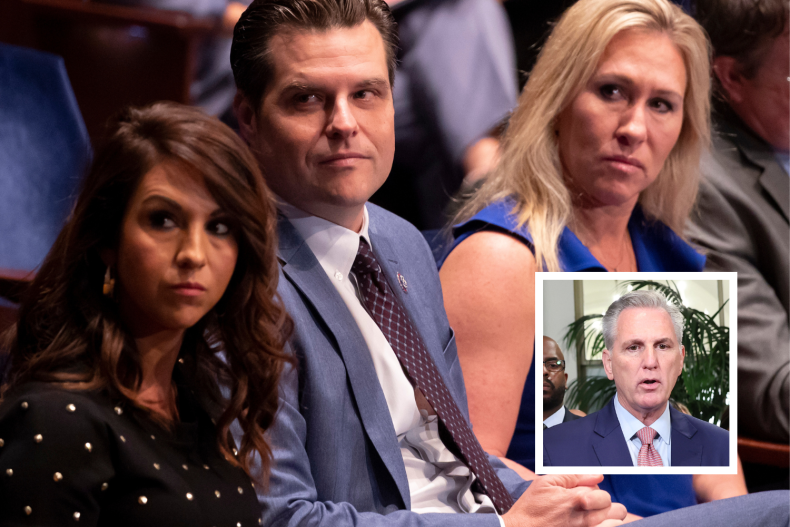 During this meeting, McCarthy clashed with his critics. He made a last-minute request that apparently fell through as some members still refused to vote for him and an ally allegedly suggested defectors could be exempted from committee duties, Politico reported.
Greene, a Georgia Republican who rose to national prominence for her conservative views and alleged past adoption of right-wing conspiracy theories, lashed out at some of her closest allies over her McCarthy opposition after the meeting. Though firmly to McCarthy's right, she was one of his most vocal supporters, describing herself as a "realist."
In remarks to reporters, she named Matt Gaetz of Florida and Lauren Boebert of Colorado.
She questioned why Gaetz continued to oppose McCarthy's speakership, despite calling the compromise on the GOP rules package "exquisite." Greene also slammed Boebert, who narrowly won re-election in November for taking McCarthy's re-election money but not supporting him.
Greene also claimed that three members of the House Freedom Caucus, without naming anyone, asked for committee posts for themselves at a meeting with McCarthy on Monday, adding that they had not asked for Greene's committee posts, which were revoked because of her past support for conspiracies . to be reinstated.
"I didn't do this for myself," Greene said. "The only thing I've done is debate and demand and argue among my peers for the right things, for the rules package and for our agenda for the American people. I didn't ask for anything for myself."
Greene said she was "angry" that her Conservative peers were making personal demands without considering them.
"But what I find out is that it's my Freedom Caucus colleagues and my supposed friends who went and did it," she said. "They didn't ask for anything for me. Nothing. I found that out in there. I'm angry."
A Gaetz spokesman referred news week to the congressman's tweet, in which he wrote, "If you want to drain the swamp, you can't hire the biggest alligator to do the exercise."
news week reached out to Boebert's office for comment.
https://www.newsweek.com/marjorie-taylor-greene-rips-gaetz-boebert-after-tense-meeting-furious-1771009 Marjorie Taylor Greene tears up Gaetz and Boebert after tense meeting: 'Furious'