Mark Esper says he would not vote for Trump in 2024 for these reasons
Former Defense Secretary Mark Esper offered a "cautionary tale" about his old boss, ex-President Donald Trump, saying Trump's personal failings made him unfit for office.
During an interview with MSNBC's Nicolle Wallace on Tuesday, Esper laid out three main reasons why he couldn't vote for Trump. Esper's latest criticism of the former president came as Esper continues to promote a book detailing his tumultuous tenure in the senior cabinet post.
"We have to elect people — be it certainly the President of the United States, but members of Congress — who have to do a couple of things: They have to put the country before themselves," Esper said.
Number two, Esper said, candidates "must have integrity and a core set of principles that guide you."
"I don't even think people close to him think he has," Wallace said of Trump.
"And you have to be able to reach across the aisle," Esper continued. "You have to be willing to work with people from the other party. You… have to bring the country together."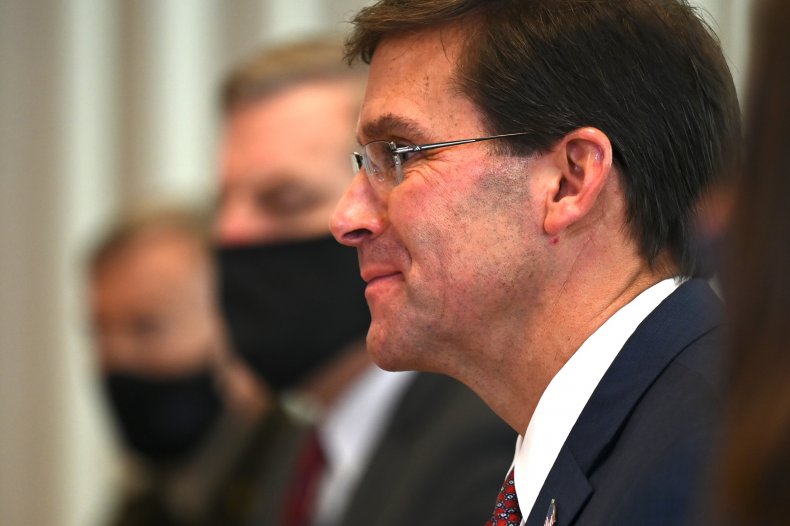 He added, "That's what (former President) Ronald Reagan did."
Esper has joined other Trump administration officials in writing books that paint an unflattering picture of the Trump White House.
In his book A Sacred Oath: Memoirs of a Secretary of Defense in Extraordinary Times Esper describes several episodes of Trump inquiring about unusual and legally questionable practices.
Esper wrote that Trump asked about the shooting of pro-racial justice protesters who gathered outside the White House in 2020. In another case, according to Esper, Trump asked about launching missiles into Mexico to destroy drug labs.
Trump denied in a statement that he intended to shoot protesters in the legs 60 minutes. He declined to comment on Esper's claims that he intends to fire missiles at Mexico.
"Mark Esper was a stiff who really didn't want to lose his job. He would do anything I wanted, so I called him 'Yesper,'" Trump said in the statement. "He was a lightweight and figurehead and I realized that very early on. He was recommended to me by some very weak RINOs [Republicans in name only] and that's what he's become."
Trump has indicated that he will run for president again in 2024. In a speech on MSNBC on Tuesday, Esper said he would not vote for Trump and referred to himself as a "Reagan Republican."
When asked if he would actively fight Trump, Esper said, "I have a voice, I have a story to offer today."
"I think it's important for Republicans … to understand that you can get these core Republican policies back — lower taxes, less regulation, strong military, border security — you can get them without the division, without the rudeness and everything else." said Esper.
He added Republican leaders are emerging but said they need to distance themselves from Trump.
news week asked Trump for comment.
https://www.newsweek.com/mark-esper-says-he-wouldnt-vote-trump-2024-these-reasons-1705411 Mark Esper says he would not vote for Trump in 2024 for these reasons