Matt Gaetz questions McCarthy's status as a "squatter" in the Speaker's office
Florida Representative Matt Gaetz is questioning the legitimacy of former House Minority Leader Kevin McCarthy, who is moving into the House office a day before he was not elected to office in three separate votes.
McCarthy, a Republican from California, on Tuesday fell short of the 218 votes needed to be elected speaker on Tuesday. While his fellow Republicans hold the majority in the new congressional term, 20 members of the GOP House of Representatives instead endorsed Ohio's Jim Jordan, leaving the chamber deadlocked because new members of Congress cannot be elected until a speaker is elected.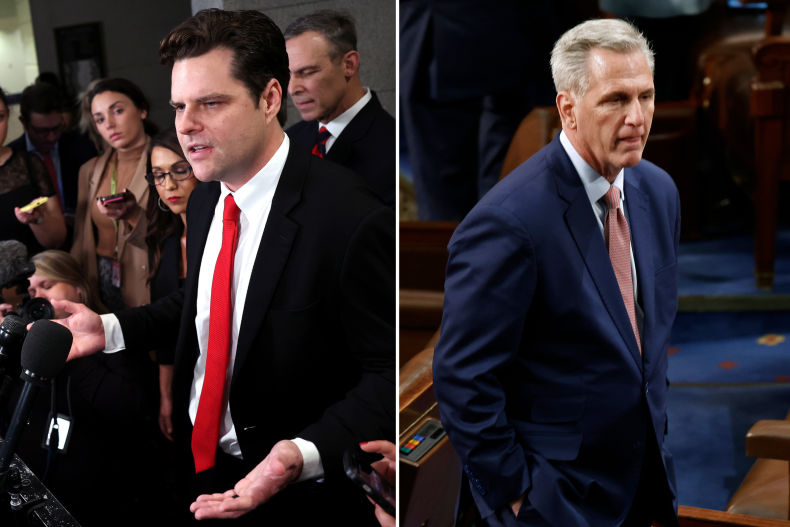 All 212 House Democrats supported New York Rep. Hakeem Jeffries for the speaker position, while 202 Republicans supported McCarthy in the third and final ballot.
But before any votes took place, McCarthy and his staff followed tradition by moving into the speaker's empty office, according to a report by Politico on Monday. Gaetz posted a letter on his Twitter account Tuesday night to Capitol Architect Brett Blanton, asking on what "legal basis" McCarthy was allowed to occupy the otherwise vacated space.
"What is the legal basis, House Rules, or precedent to allow someone who has finished second in three consecutive elections for Speaker to fill the House Speaker?" read the letter. "How long will he stay there before he's considered a squatter?"
Even before Tuesday's vote, Gaetz was one of the most vocal critics of McCarthy's bid, along with his colleagues in the House Freedom Caucus, who accused McCarthy of not being a true Conservative.
In a video clip posted by The postmillennial On Tuesday afternoon, Gaetz announced his support for Jordan on the House floor, saying that "maybe the right person for the job of Speaker of the House isn't someone who wants it that badly."
"Perhaps the right person for the job of Speaker of the House isn't someone who has spent more than a decade selling stock of himself to get it," he continued in the clip.
Other users on Twitter mocked McCarthy for moving into the Speaker's office. Political Commentator Brian Normoyle published that McCarthy's "public humiliation on television" after losing the announcer's voice three times in a row is not comparable to being "thrown out of the announcer's office if he fails to pull it off."
"He may have drafted early as a show of confidence, but all it really demonstrated was hubris," Normoyle wrote.
Lawyer from New York City David Lurie joked on his account, "Will McCarthy have to pay rent this week to fill the speaker's office if he drops out of the race?"
Host of a conservative talk show Mike Crispy also tweeted about McCarthy moving into the Speaker's office "with no plan as to how he might actually become Speaker."
"You are an international PUNCHLINE Kevin," Crispi added. "We all laugh at you."
Convention reporter for NBC News Kyle Stewart reported that it is "traditional" for the outgoing minority leader of the House of Representatives to move into the Speaker's office. If another member of the House of Representatives is elected speaker after the chamber reconvenes at 12 noon on Wednesday, McCarthy and his staff will soon be on the move again.
news week has reached out to McCarthy for comment.
https://www.newsweek.com/matt-gaetz-questions-mccarthys-status-squatter-speakers-office-1771079 Matt Gaetz questions McCarthy's status as a "squatter" in the Speaker's office