Matt Gaetz railed against Trump's speaker nomination
Rep. Matt Gaetz's nomination of former President Donald Trump for Speaker of the House was cut short by a Democratic congressman who objected that Trump was "trying to overthrow our administration."
Gaetz, a Florida Republican, nominated Trump before the House voted for the fifth time on Thursday without a speaker being chosen. The far-right's relentless opposition to California Republican leader Kevin McCarthy has resulted in 11 consecutive failed votes since the House of Representatives convened on Tuesday, the most in a speaker election since 1859.
Gaetz, who promised last year to nominate Trump as speaker, voted twice for the former president before nominating him on Thursday. His first vote sparked surprise and laughter from Republican Representative Marjorie Taylor Greene of Georgia, another Trump loyalist who supports McCarthy as a speaker.
Trump was praised by Gaetz for being "the first president in my life who didn't start new wars" during the nomination. The congressman argued that the achievement "combines some elements of the right and the left for the benefit of our communities."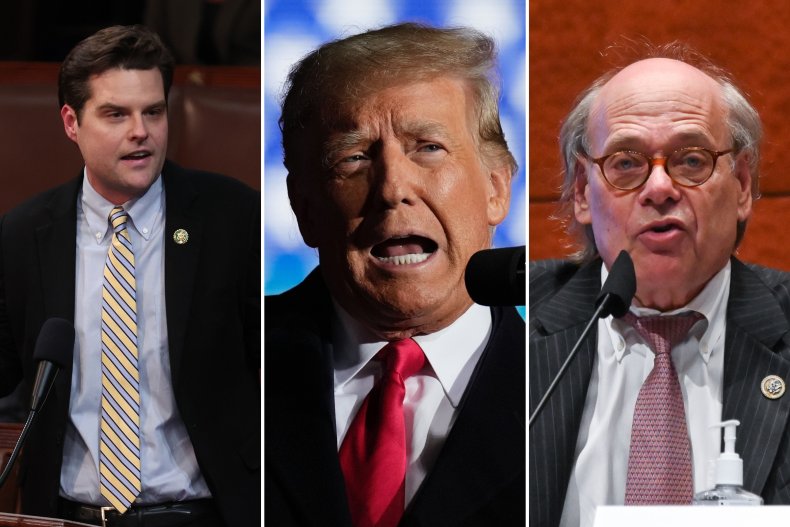 Democratic Rep. Steve Cohen of Tennessee then interjected loudly, arguing that Trump was trying to start a "war" in Congress, referring to the Jan. 6 attack on the Capitol, according to atwet by reporter Ben Jacobs.
"He tried to overthrow our government," Cohen is heard to say in one video clip of the moment, although much of what has been said is incomprehensible.
Other members of Congress shouted "order" in response to Cohen before domestic worker Cheryl Johnson, who chaired the chamber until a speaker was chosen, banged her gavel and Gaetz continued his speech.
news week has reached out to the Gaetz and Cohen offices for comment.
Gaetz was ultimately the only member of Congress to vote for Trump on Thursday, both before and after his nomination. Although Colorado Rep. Lauren Boebert suggested Trump nominate during a Fox News appearance Wednesday night, she did not vote for him on Thursday.
Greene, who is also typically one of Trump's most staunch supporters, declared her disapproval of the former president in a tweet just before voting for McCarthy for the 11th time.
"I don't want President Trump to be just third in line to the president, I want him to actually be president," Greene said tweeted. "So I was proud to support him on the same day he announced he was running for president in 2024."
While nothing in the House Rules would prevent that, it seems unlikely that Trump will actually become speaker. The fact that no member of the House of Representatives joined Gaetz in voting for Trump after his nomination indicates his diminishing influence over Republicans.
Trump himself, however, might take a liking to the idea of ​​serving as a speaker. He shared a manipulated image of himself on Truth Social in character fomenting chaos while the House was in session.
The image shows Trump mockingly sticking out his tongue and rubbing his stomach while seated behind President Joe Biden and next to Vice President Kamala Harris as Biden addresses Congress.
news week has reached out to Trump's office for comment.
https://www.newsweek.com/matt-gaetz-heckled-over-trumps-speaker-nomination-1771720 Matt Gaetz railed against Trump's speaker nomination