Matt Gaetz Says Deep State Tells Mike Pence Not to Run for President
Florida Republican Representative Matt Gaetz says the "deep state" is working to block former Vice President Mike Pence from launching a presidential bid.
It was revealed on Tuesday that documents were reportedly found in Pence's home last week that mirror similar finds in the homes of former President Donald Trump and former President Joe Biden, both of which prompted Attorney General Merrick Garland to appoint special counsel with investigations.
Gaetz later tweeted that the alleged deep state would direct Garland to appoint a special counsel to investigate Pence if the former vice president decides to run for president in 2024.
"Whether Mike Pence gets a special investigator for classified documents found in his home depends on whether he announces that he's running for president," Gaetz said tweeted. "The Deep State mouthpieces on all cable news today are sending a message to Mike Pence: do not run for President."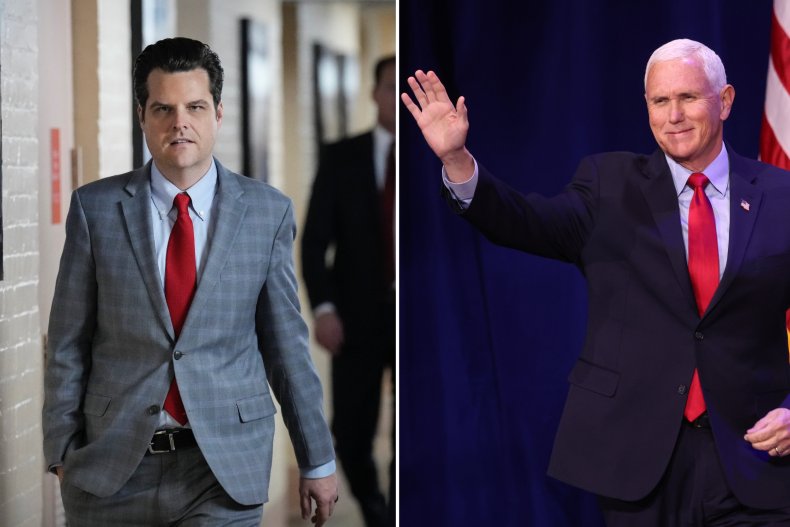 The tweet was accompanied by a video of Gaetz appearing with former Trump adviser Steve Bannon war room podcast.
The video began with a clip of CNN security analyst and former President Barack Obama official Carrie Cordero saying that Garland's decision may have stemmed from Pence's ambitions for 2024, which Gaetz assumed were headed towards the deep state .
Gaetz also recently tweeted that the deep state is working to preemptively destroy Biden's 2024 reelection campaign by somehow orchestrating the recent discovery of confidential Obama-era documents in the President's home and office.
The deep state is usually defined as a group of influential people, often government or military officials, who covertly control the government. There is no evidence that the supposed group that often appears in conspiracy theories like QAnon actually exists.
Far-right conservatives have often claimed that the deep state is working against their interests, particularly in relation to Trump. in one tweet Earlier Tuesday, Gaetz said the deep state had previously made claims that Trump was "collaborating with Russia."
The deep state's alleged attempt to stop Pence from challenging Trump for the GOP presidential nomination is somewhat at odds with the narrative that the group is working against the former president.
However, Gaetz said during his appearance with Bannon that the deep state is now opposed to both Trump and Biden. He suggested the group was trying to block Pence from running for president in order to allow a more viable challenger to take the Republican nomination from Trump.
"I believe the deep state is against Trump, and I believe the deep state is against Biden," Gaetz said. "I think they prefer a different Democratic candidate and a different Republican candidate."
"Mike Pence is someone who's picking up a healthy portion of the Republican primary vote," he continued. "If he's not there, those voices don't go [former] President Trump. Those votes would go to someone else."
Though Trump defended Pence after revealing secret documents on Tuesday, relations between the former running mates have been chilly since Pence attested to Biden's 2020 Electoral College over Trump's objections in January 2021.
Pence has not announced his intention to seek the presidency despite speculation he may be planning to run. Trump announced a 2024 campaign in November. Many assume Biden will seek re-election, although the president has not made an official statement.
news week has reached out to the offices of Gaetz and Pence for comment.
https://www.newsweek.com/matt-gaetz-says-deep-state-telling-mike-pence-not-run-president-1776284 Matt Gaetz Says Deep State Tells Mike Pence Not to Run for President