Max Verstappen crowned world champion after chaotic race in Japan
Max Verstappen won his second Formula 1 title after dramatic scenes at the Japanese Grand Prix.
Verstappen was crowned world champion at Suzuka after putting on a strong performance to finish ahead of Charles Leclerc and Sergio Perez.
Rain delayed the start of the race by nearly two hours before determining conditions were good enough for the drivers to take to the track.
And at the end of the race there were confusing scenes and the uncertainty of whether full points would be awarded after just 29 of the 53 scheduled laps.
Regardless of the number of points awarded, if Leclerc had finished second, Verstappen would have been denied the championship.
And after Leclerc crossed the finish line in second, it seemed like Verstappen would have to wait until the next Grand Prix in Austin, Texas to win his second title.
But the Ferrari driver took the final corner and received a five-second time penalty, dropping him to third place, meaning his title challenge was over.
In his post-race interview, Verstappen was heard asking if he had become world champion. "Did I or didn't I? I hear different things," he said.
It was later confirmed that he won.
The high spray caused by the downpour continued to be a problem throughout the race, resulting in limited visibility.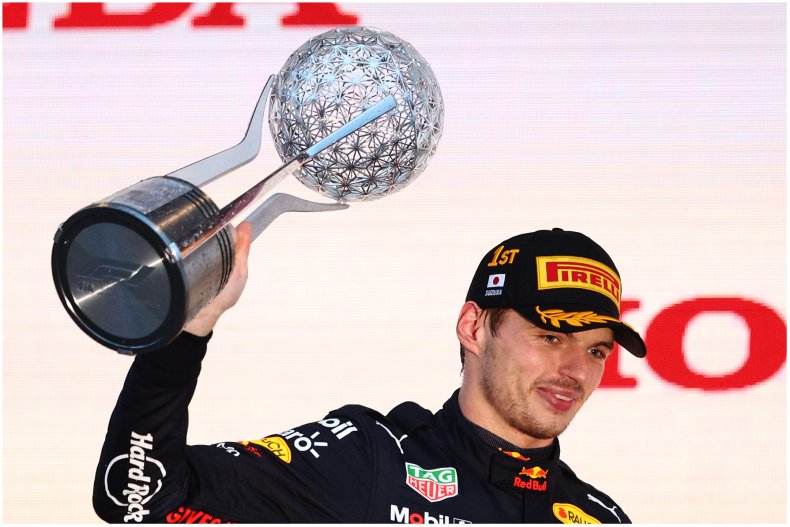 In a chaotic opening lap, Carlos Sainz crashed while both Sebastian Vettel and Zhou Guanyu struggled on the track due to the wet conditions.
Verstappen's victory was almost overshadowed when French driver Pierre Gasly had a near miss with a recovery vehicle. Gasly expressed concern upon seeing the vehicle on the track.
He said, "What kind of tractor is that? [the] Track? This is unacceptable. What happened? [I] I can not believe that."
This is an evolving story and will be updated as more information becomes available.
https://www.newsweek.com/formula-1-max-verstappen-world-champion-chaotic-scenes-japan-charles-leclerc-1750160 Max Verstappen crowned world champion after chaotic race in Japan