McCarthy and McConnell are at odds over Republican leadership in Congress
Tensions between House Minority Leader Kevin McCarthy and Senate Minority Leader Mitch McConnell over the omnibus spending bill continue to rise, with some GOP members voicing concerns about GOP leadership in Congress next year.
McCarthy recently criticized McConnell's plan to pass the omnibus spending package before Christmas. The bill is intended to avert the federal government's shutdown,
McCarthy, who is generally backed by former President Donald Trump, said Tuesday that Senate Republicans should not vote for the bill, The Hill reported.
The House Minority Leader argued that they could instead vote for a stopgap measure that would stall federal funding levels until January, when the GOP takes control of the House majority they narrowly won in this year's midterm elections.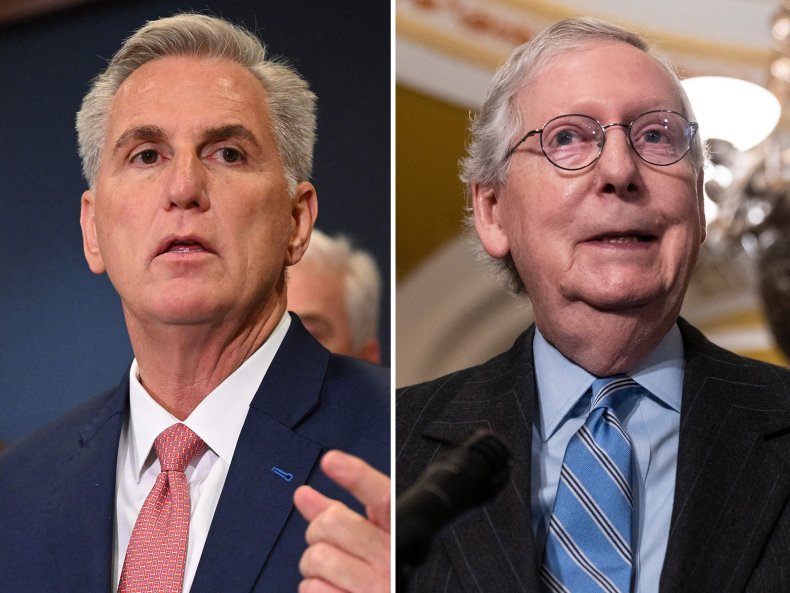 "They're trying to block us just before Christmas. Why would you ever move forward when there's a power transition in 21 days where Republicans would have a stronger hand?" McCarthy said. "We wouldn't talk about adding more money. We would talk about a reduction."
McCarthy said during an appearance on Fox News last week that Republicans working on a major spending deal are "wrong" and the issue should wait until the New Year.
But McConnell's Senate allies said McCarthy's criticism of the omnibus bill was "unhelpful." However, McCarthy was on board with the omnibus law, according to McConnell, who had a friendly relationship with former President Donald Trump prior to the 2020 voter fraud claims.
McConnell previously told reporters that he spoke to McCarthy during a Nov. 29 White House meeting and said that the House minority leader had agreed to pass the omnibus bill by the end of the year. Also in attendance at this meeting were President Joe Biden, House Speaker Nancy Pelosi, and Senate Majority Leader Chuck Schumer.
"We had a really good meeting. We have set out the challenges we are all facing here together. I think there is a broad consensus that we would be better off with an omnibus than one [continuing resolution]but there are some significant hurdles to overcome," McConnell said Nov. 29 after the White House meeting.
But a spokesman for McCarthy told The Hill on Wednesday that the House minority leader was never on board to pass the omnibus bill during or after the White House meeting.
McCarthy confirmed he had a "firm no" on the pending omnibus package, according to the spokesman, arguing that passing regular budget bills was better than passing rolling resolutions.
Meanwhile, some Republicans fear tensions between McCarthy and McConnell will drag into next year and potentially lead to a "challenging" working partnership between them in Congress, according to The Hill.
Also, the next House Speaker may face a challenge in passing spending bills and may need to rely on House Democrat votes as there are some House Conservatives who may not vote for budget legislation.
"He has a very thin majority and I know he knows it's going to be difficult to do some of the things that they want to do," Republican Senator John Cornyn of Texas, a McConnell ally, said, according to The Hill .
Meanwhile, senior Republican on the Senate Appropriations Committee, Senator Richard Shelby of Alabama, said, "Basically, McCarthy is the Republican leader, he wants to be Speaker of the House and he has some dissidents there and a lot of his dissidents are going to be no to nothing." "
Some senators are sparing McCarthy from discussions of the government's spending bill with Republican Senator Kevin Cramer of Nevada, according to Semafor, saying, "I just think for Kevin's sake, although he's not asking it, I think some Republicans just feel like we should him." relieve that burden."
news week contacted Trump's media office for comment.
https://www.newsweek.com/mccarthy-mcconnell-clash-over-republican-leadership-congress-1767476 McCarthy and McConnell are at odds over Republican leadership in Congress