Meghan and Kate missed the chance for the olive branch moment – ​​says Diana's friend
Meghan Markle and Kate Middleton could have sent "a message" to the world by snapping themselves together at the opening of Queen Elizabeth II's Platinum Jubilee, according to a friend of Princess Diana's.
Meghan and Harry were barely seen watching the Queen's Trooping the Color birthday parade from the sidelines in the Major General's office.
There were a few swiped photos of them sharing a sweet moment with some royal children and chatting with Elizabeth's cousin, the Duke of Kent – but nothing with Kate.
Richard Kay, a friend of the late Princess Diana, wrote in the Daily mail: "As charming as these episodes undoubtedly were, imagine the value of a snap of them with the Duchess of Cambridge [Kate]. Was the absence intentional?"
Things could have turned out differently, as Kate was briefly positioned at the same vantage point as the California-based couple, although she wasn't photographed there.
The Duchess of Cambridge and her children took part in a royal carriage procession during the first phase of the military competition, but then switched to the Major General's office before later joining Elizabeth on the main balcony of Buckingham Palace to watch the fly-by end.
The two royal women could have used the moment as an opportunity to show the world there were no hard feelings after Meghan said her sister-in-law made her cry while trying on a bridesmaid dress ahead of her 2018 royal wedding.
Kay wrote: "It's impossible to know if such a moment even happened.
"Kate may have been just too busy keeping tabs on her three children, George, Charlotte and Louis, whose cheerful presence wowed the crowd on her carriage ride with the Duchess of Cornwall.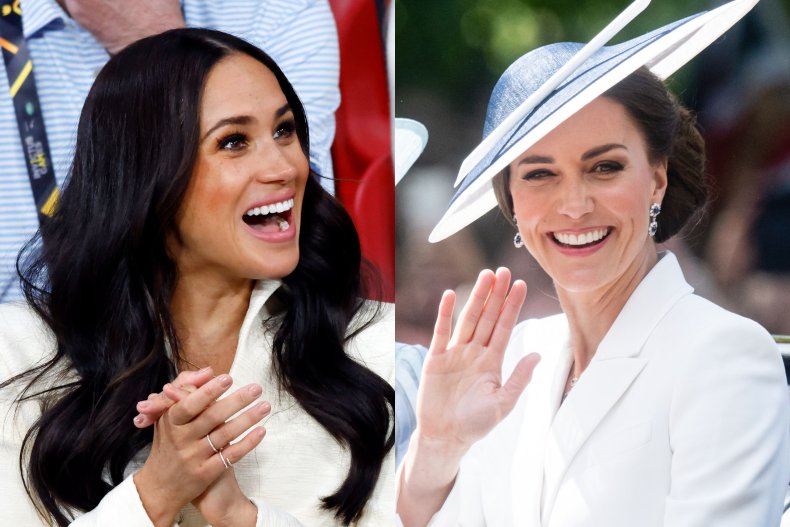 "And there were up to 70 people in the room, many of whom would not have spoken to the Duchess for more than two years.
"More importantly, this was also the first time Kate and Meghan have been together since the Duchess of Sussex accused her sister-in-law of making her cry over the bridesmaids' dresses in her TV interview with Oprah Winfrey.
"What a message a photo of the two women chatting side by side would have sent."
The fact that no picture has emerged brings additional scrutiny around a Thanksgiving service at St Paul's Cathedral on Friday 3 June, which they will both again attend.
The Queen withdrew from the service after experiencing mobility issues during Trooping the Color, meaning there will be more focus on the younger royals in attendance.
And it comes after William and Kate were due to travel to Cardiff on the day of Meghan and Harry's daughter Lilibet Mountbatten-Windsor's first birthday, on Saturday June 4.
Meghan and the Duchess of Cambridge have still not been seen together in public since Meghan's last royal jobs in March 2020.
Harry was first spotted in public with his older brother at Prince Philip's funeral on April 17, 2021, when he was also chatting with Kate.
He then rejoined William to unveil a statue of her mother Princess Diana at Kensington Palace on July 1, 2021, on her 60th birthday.
Meghan told Oprah in the March 2021 CBS prime-time special that newspaper articles accused her of making Kate cry, when in fact "the opposite happened."
She said: "I'm not saying this to belittle anyone because it's been a really tough week of the wedding. And she was upset about something, but she stood up for it and she apologized.
"And she brought me flowers and a note apologizing. And she did what I would do if I knew I had hurt someone, right, to just take responsibility for it."
For more royal news and commentary, click here news week's The Royal Report Podcasts:
https://www.newsweek.com/meghan-markle-kate-middleton-missed-chance-olive-branch-moment-platinum-jubilee-princess-diana-1712571 Meghan and Kate missed the chance for the olive branch moment – ​​says Diana's friend