Meghan with Kate Middleton, George and Charlotte at the Queen's funeral
Meghan Markle was spotted with Kate Middleton, Prince George and Princess Charlotte as the royals put unity above family conflicts in honor of Queen Elizabeth II.
The Duchess of Sussex and the new Princess of Wales had their tensions, particularly after Meghan told Oprah Winfrey that Kate had made her cry during a bridesmaids' dress rehearsal days before her wedding to Prince Harry in 2018.
But any lingering bad feelings were firmly brushed aside when the two women shared a brief moment together in the minutes before Elizabeth's funeral service began at Westminster Abbey.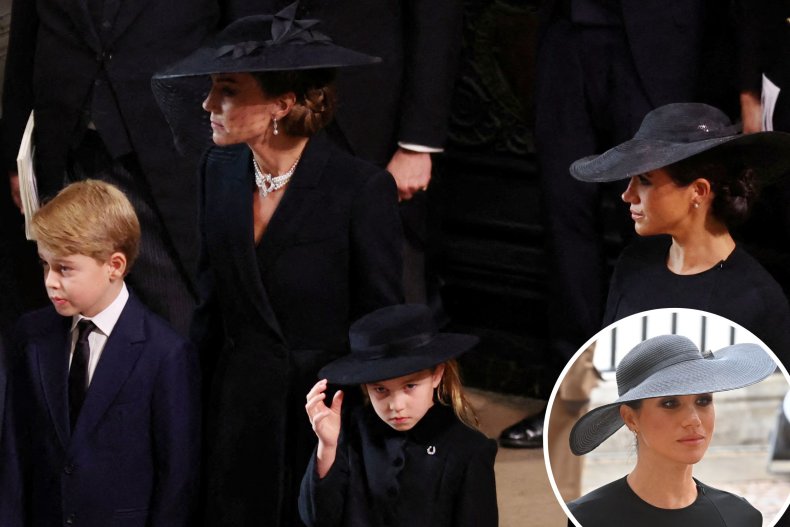 Meghan initially shared a car with Prince Harry, but they parted ways when he joined a procession alongside King Charles III, Prince William and other blood kings.
With her husband busy, Meghan initially shared a car from Westminster Hall to Westminster Abbey with Sophie, Countess of Wessex.
She was then spotted briefly with Kate and their children George and Charlotte, aged 9 and 7, on the way to the Abbey.
The royal rift has served as a constant backdrop for the past four years of royal life. There were rumors that all was not well in the relationship between the couples, who were once known in the British press as the "Fab Four". However, all these past disagreements were put on hold when King Charles III. worked together to visibly involve Harry and Meghan in the grief for his mother.
The unity wasn't without its problems, Harry was initially barred from wearing military uniforms only for Charles to invite him to wear his military colors to a vigil in Elizabeth's honor on Saturday September 17th.
https://www.newsweek.com/meghan-markle-pictured-kate-middleton-prince-george-princess-charlotte-queen-funeral-1744077 Meghan with Kate Middleton, George and Charlotte at the Queen's funeral