Mehdi Hasan exposes Ron DeSantis' "massive" presidential campaign problem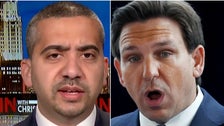 Florida Gov. Ron DeSantis (right) appears close to announcing his candidacy for the GOP's presidential nomination — but MSNBC's Mehdi Hasan says there's something standing in his way: his personality.
Hasan said DeSantis had a "disastrous" performance with the rest of the world. He referred to a Politico report It said the governor had "underchallenged" business leaders in the UK, and it came to an odd moment in Japan when a question about Trump led to a "bizarre, head-bobbing response" from DeSantis:
"It went viral for all the wrong reasons," Hasan said.
"That's what you tell kids — not a presidential candidate," Hasan said, noting that DeSantis looked "very uncomfortable" during the trip to Iowa despite the advice.
"He's trying so hard to be a real boy," Hasan concluded. "And yet, DeSantis could be on the verge of becoming the most memorable presidential candidate we've ever seen."
DeSantis recently relocated its political operationsand his press secretary in the governor's office moved to a position in the DeSantis political office. Fox News said He will serve as press secretary in DeSantis' political operations.
Both moves are considered signs that DeSantis is close to the announcement.