Mexico's left-wing president votes to reinstate Trump in Musk poll on Twitter
Mexican President Andrés Manuel López Obrador, a leftist, voted to allow former President Donald Trump to return to Twitter after billionaire CEO Elon Musk launched a poll on the social media platform.
Musk, who bought Twitter and privatized the company in late October, launched the 24-hour poll at 7:47 p.m. ET on Friday. In just hours, the poll has garnered votes from over 14 million Twitter users, with more than 51 percent of respondents voting "yes" that Trump should be reinstated on the platform.
In response to his poll, which simply said, "Reinstate former President Trump" with an option to vote "yes" or "no," Musk added the Latin phrase: "Vox Populi, Vox Dei." Translated, the expression means "voice of the people, voice of God".
On Saturday, López Obrador retweeted Musk's poll and wrote, "I've already voted for Trump to use Twitter. The Statue of Liberty cannot remain an empty symbol."
Despite being a left-wing politician, López Obrador and Trump have had a positive working relationship. Trump spoke positively of the Mexican leader, despite regularly complaining about undocumented immigration at the US's southern border with Mexico. López Obrador also emphasized his positive relationship with Trump during his first meeting with then-President-elect Joe Biden.
"I must mention that we have a very good relationship with your country's current President, Mr. Donald Trump," he said. The New York Times reported. "Regardless of all other considerations, he respects our sovereignty."
López Obrador also previously criticized Twitter's decision to ban Trump from its platform. In late October, when Musk took over Twitter, the Mexican leader urged the billionaire to "repair the damage caused by President Trump's account termination," according to Reuters. He described the decision to ban the former president as being made under "conservative scrutiny".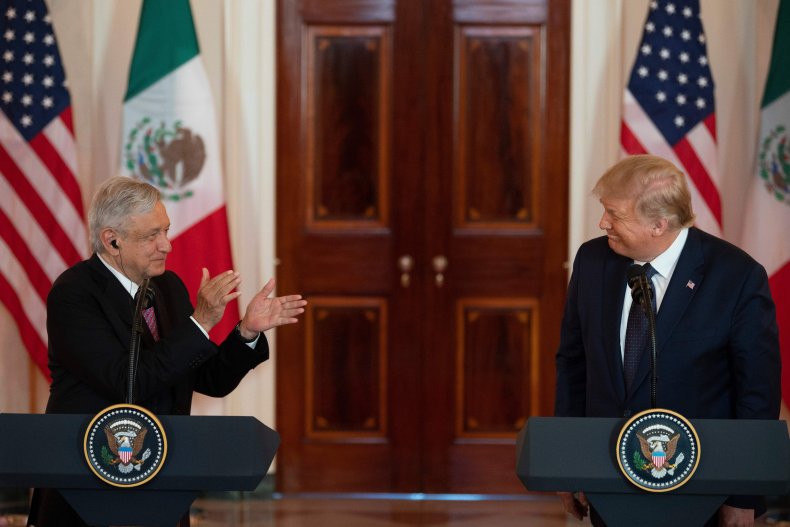 Trump was blocked from Twitter and also from most mainstream social media platforms following his supporters' attack on the US Capitol on January 6, 2021. Supporters of the decision said Trump broke the rules of the social media platform by calling for violence from his supporters. Critics of the decision argue that the then president was censored and freedom of expression is threatened.
When reached for comment on the Twitter poll, a Trump spokesman referred news week to a Truth Social post the former president made on Saturday afternoon. "Now vote positive, but don't worry, we're not going anywhere. Truth Social is special!" the former president wrote, sharing a link to Musk's Twitter poll. Trump founded and launched Truth Social earlier this year.
The spokesman also shared a clip of some of Trump's remarks via video link with the Republican Jewish Coalition event in Las Vegas, Nevada on Saturday. Asked about Musk's poll, Trump spoke positively of the billionaire, saying he's "always liked him." The former President continued to speak about Truth Social and promoted his social media site as an alternative.
Regardless of what Twitter decides under Musk's leadership, Trump had previously indicated that he had no plans to return to the social media platform. He said after Musk took over at Twitter that Truth Social "looks and works better in my eyes."
"I am very glad that Twitter is now in sane hands and is no longer run by radical left-wing crazies and lunatics who genuinely hate our country. Twitter now has to work hard to rid itself of all the bots and fake accounts that were hurting it so much. It's going to be a lot smaller, but better. I LOVE THE TRUTH!" He included a statement posted to his social media site in late October.
Update 11/19/2022 at 6:12 p.m. ET: This article has been updated with a comment from a Trump spokesman.
https://www.newsweek.com/mexicos-leftist-president-votes-reinstate-trump-twitter-musk-poll-1760885 Mexico's left-wing president votes to reinstate Trump in Musk poll on Twitter