Miami police are on the hunt for a nightclub vixen who is believed to be drugged and stole $600,000 in jewelry from a man she met at Dirty Rabbit
Miami police are on the hunt for this woman who allegedly drugged a Miami man and then searched his safe containing expensive jewelry – including a half-million Rolex watch.
The brunette vixen chatted with the 35-year-old victim on May 8 at hip neighborhood bar The Dirty Rabbit in Wynwood.
They walked back to his apartment in the Paramount Miami Worldcenter luxury condominium tower around 5:30 a.m., according to a police report.
"They fell asleep, and when he woke up around 12:00 p.m., he found the safe in his bedroom was open," the Fox News Digital report said.
FLORIDA NURFANS MODEL COURTNEY CLENNEY SUED BY FAMILY OF MURDERED FRIEND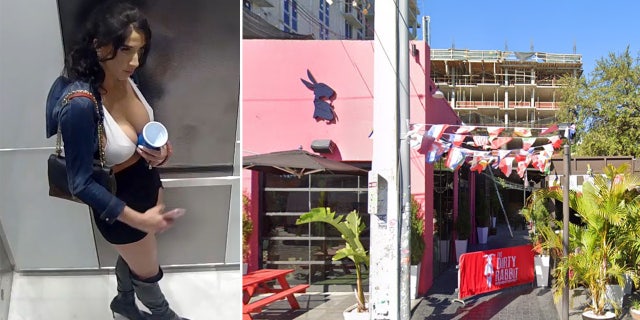 According to the Miami Police Department, the woman was seen wearing a $456,000 Daytona Rainbow Rolex, a $46,000 Sky-Dweller Rolex, $93,000 in gold jewelry and Cartier sunglasses got away with $12,500.
Authorities said the man was having a drink with the woman at his home before he passed out.
As soon as he saw his valuables were missing, he called 911.
Surveillance footage shows the suspected thief with the victim in the condo building's elevator and later exiting alone.
In the footage, the woman wears a white halter top under a denim jacket, black mini skirt and stiletto boots.
Suspects are caught on camera stealing a Rolex watch from a man in Los Angeles
She is holding an iPhone with a pink case. She also appears to be holding a blue solo mug when exiting the elevator, which she was not holding when entering.
Police described her as in her mid-30s, over 1.70 meters tall and weighing around 75 kilograms.
CLICK HERE TO GET THE FOX NEWS APP
Anyone with information is asked to contact the Miami Police Department's Burglary Division at 305-603-6020.
Whistleblowers who prefer to remain anonymous can contact Miami-Dade Crime Stoppers at 305-471-8477.
Julia Bonavita contributed to this report.