Michael Zack's last words before execution in Florida
A convicted murderer was executed in Florida. This is the sixth death penalty in the Sunshine State this year and the eighth in the term of governor and 2024 Republican presidential candidate Ron DeSantis.
Michael Duane Zack III, 54, died by lethal injection Tuesday at 6:14 p.m. Zack was convicted of killing Laurie Russillo and Ravonne Smith during a crime spree in June 1996 after meeting both women at beach bars in the Florida Panhandle.
Zack received a life sentence for the murder of Russillo and the death penalty for the murder of Smith, whom he also convicted of sexual assault.
A spokesman for the Florida Department of Corrections said in an email Newsweek that Zack refused to ask for one last meal. He reportedly met with his wife and spiritual advisor in the hours before the execution.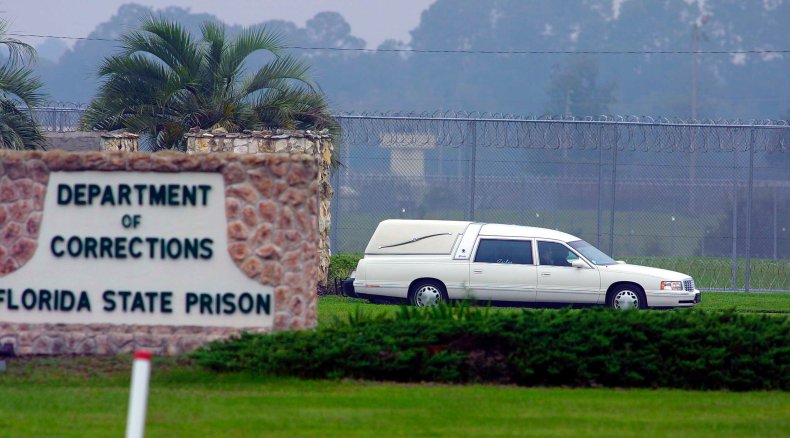 According to the Associated Press, the execution began promptly at 6 p.m. Zack reportedly said "Yes, sir" after being asked if he had any last words. Then he looked at the witnesses and said, "I love you all."
Shortly after his execution, the anti-death penalty group Floridians for Alternatives to the Death Penalty released a final statement from Zack.
"Twenty-seven years ago, I was an alcoholic and drug addict," Zack said in the statement. "I did things that hurt a lot of people – not just the victims and their families and friends, but also my own family and friends. Every single day since then I have woken up full of regret and a desire to make time here on earth mean more than the worst thing I have ever done.
"I don't make excuses," he added. "I don't blame it. But I wish I could get a second chance, spend my days in prison and continue to do everything I can to make a difference in this world. To all my brothers on death row, please continue to help each other."
Zack's execution came after a last-minute appeal to the U.S. Supreme Court was rejected on Monday, without the justices providing a reason for the rejection. An appeal to the Florida Supreme Court was also rejected in a unanimous decision last week.
Zack's lawyers had argued that he should not be executed because of his impaired impulse control as well as mental and emotional problems caused by fetal alcohol syndrome (FAS), citing a 2002 Supreme Court decision that made intellectual disabilities one exclusion criterion for the death penalty.
Florida Attorney General Ashley Moody's office disputed the argument that FAS should be classified as an intellectual disability, writing in a Supreme Court filing that "unelected and unrepresentative experts" should not be allowed, despite the argument from Zack's attorneys "The psychiatric community now views FAS as functionally identical to mental retardation."
The claim of mental disability was also cited in one of several arguments against the execution by religious and anti-death penalty groups that urged DeSantis to grant Zack clemency.
DeSantis, who has made expanding the death penalty an issue in his bid for the presidency, signed Zack's death warrant on August 17. The governor has far surpassed his recent predecessors in imposing death penalties in his state, even though most executions have taken place in the state this year.
Shortly before he announced his presidential candidacy, DeSantis signed a Florida law that allows the death penalty to be imposed on child rapists. The bill was officially signed into law on Sunday, but is likely to be challenged since the punishment for rapists has already been banned by the Florida Supreme Court and the U.S. Supreme Court.
Five other men convicted of murder were executed in Florida earlier this year: Donald Dillbeck, Louis Bernard Gaskin, Darryl B. Barwick, Duane Eugene Owen and James Phillip Barnes.