Michelle Obama said she couldn't stand Barack for 10 years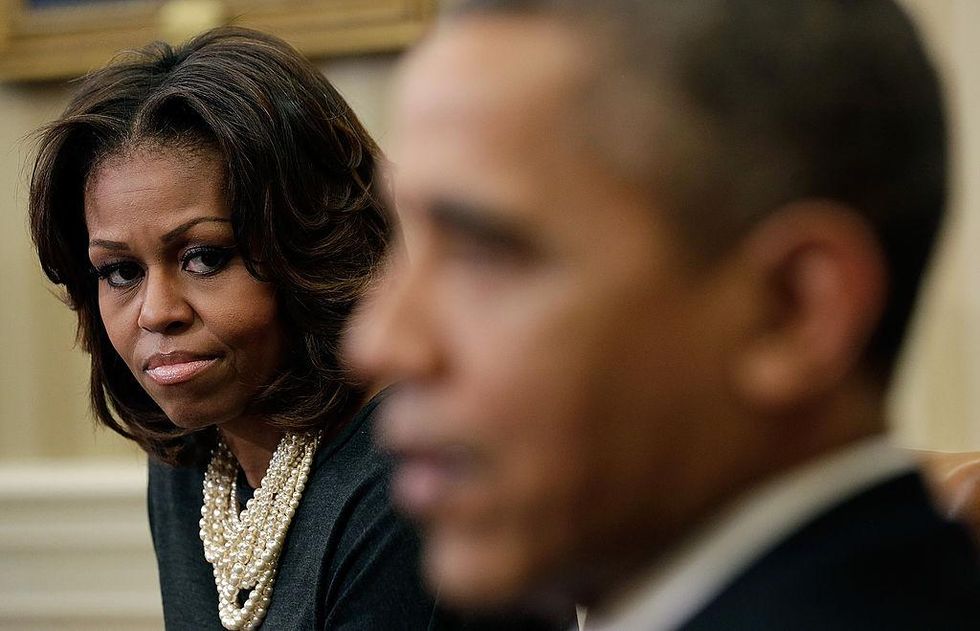 Former First Lady Michelle Obama revealed that she "didn't stand" former President Barack Obama for a decade.
During an interview with Revolt TVWhile promoting her book, Michelle Obama opened up about how she felt disgusted with her husband for a decade. Michelle Obama explained, "People think I suck when I say this: It's like I couldn't stand my husband for 10 years."
The former first lady of eight added: "And guess when it happened? When those kids were little."
The 44th President's wife added, "For ten years while we were trying to build our careers and worrying about school and who was doing what and what, I was like, 'Argh, that's not even!'"
She continued: "And you know what? Marriage is never 50/50. Never. There are times I'm 70, he's 30. There are times he's 60, 40. But guess what? Ten years. We were married 30. I'd take 10 bad years over 30 – it's just the way you look at it. People give up – 'Five years; I can not stand.'"
MichelleObama said"Do you like him? I mean, you might be mad at him, but you still look at him and say, 'I'm not happy with you, but I respect you. I don't agree with you but you're still a kind, smart person.'"
you proclaimed"Little children, they are terrorists. You have demands. you don't speak They are bad communicators. They cry all the time."
Michelle, 58, met Barack, 61, in 1989 at a Chicago law firm. Michelle married Barack Obama on October 3, 1992. The couple had two daughters: Malia and Sasha. Michelle, Barack and their daughters resided in the White House from January 20, 2009 to January 19, 2017. The Obama kids were 7 and 10 years old when they moved into the White House.
In 2017, Michelle Obama secured one 65 million dollars book offer. In 2018, the Obamas scored one 50 million dollars Deal with Netflix.
That New York Post reported in 2018, "Forbes estimated that between 2005 — when Barack Obama became a US Senator and they first arrived in Washington — and 2016, the couple earned $20.5 million in salaries and book royalties. They are now worth more than $135 million. And like her husband , Michelle Obama is currently in demand as a speaker for businesses and nonprofits, earning $225,000 per appearance, The Post has learned.
You can watch the full Revolt TV interview with Michelle Obama below.
REVOLT x Michelle Obama: The Intergenerational Conversationwww.youtube.com
https://www.theblaze.com/news/michelle-obama-book-barack-interview Michelle Obama said she couldn't stand Barack for 10 years