Microsoft and Meta promise cloud PCs streamed on VR headsets • The Register
opinion poll Microsoft and Meta have teamed up in the Metaverse to integrate the software giant's operating system and productivity tools with The Social Network's virtual reality hardware Meta Quest.
The two companies today promised that Windows 365 will come to Meta Quest devices in the future, offering the ability "to stream a Windows Cloud PC complete with your personalized apps, content and settings."
This Cloud PC will be written in your face – virtually and, to some extent, literally – but how users will control the machine has been explained with no other than an illustration of a man seated in front of a mouse and keyboard. It's mysterious since Meta's list of accessories doesn't include a keyboard. Meta offers controllers that can do the work of a mouse, and today announced a headset – the Quest Pro – that will include an eye tracker that can interpret facial expressions so they can be reproduced on your avatars in virtual spaces. However, there is no mention of Bluetooth in the specs of the device. The device costs $1499, a sum that easily covers the cost of a traditional PC.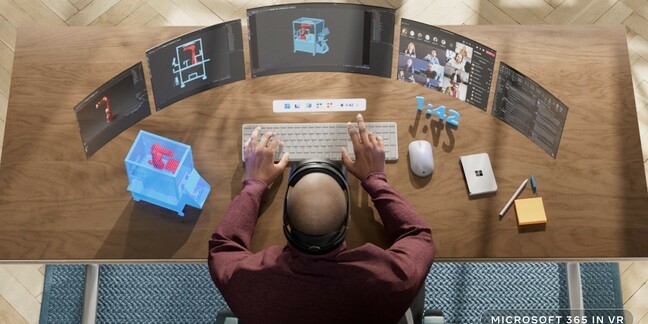 Microsoft's rendering of a Windows 365 Cloud PC in VR – click to enlarge
Meta boss Mark Zuckerberg said the Quest Pro is important because having avatars that mirror your face makes VR even better suited to real-world collaboration. But he also said, "The sense of presence you get from VR can be even better than video chat today." So why virtualizing your face makes sense isn't entirely clear.
Neither Zuckerberg nor Microsoft CEO Satya Nadella — who appeared together in (irony alert) a split-screen video — explained how one might use Windows or Office 365 in a headset.
Zuckerberg said, "With Microsoft 365, you can interact with content from your favorite productivity apps."
Nadella enthused, "With Windows 365, you have the ability to securely stream the Windows experience to the VR device with the full power of Windows and Windows applications."
Both CEOs advocated using Microsoft Teams in VR — again without many details other than claims that it would enable more powerful interactions than would be possible using other forms of collaborationware.
(Except maybe Zoom, since Meta has also teamed up with the vid meeting giant, even announcing that avatars will be getting arms and legs in that environment.)
If you decide this stuff makes sense in your organization, Microsoft has promised to support Meta Quest devices with Azure Active Directory and its Intune endpoint manager. Zuck chimed in with teasers of a VR for Business subscription service from Meta and news that Accenture has signed on "to help companies use VR to transform the way they engage employees, interact with customers or develop products and services in the Metaverse".
Will yours be one of these companies? Let us know in the poll below. ®
JavaScript disabled
Please enable JavaScript to use this feature.
https://www.theregister.com/2022/10/12/meta_microsoft_alliance/ Microsoft and Meta promise cloud PCs streamed on VR headsets • The Register