Microsoft is pouring money into silicon battery launches • The Register
Microsoft is one of the investors involved in the recent round of funding for Group14 Technologies, a company developing silicon battery technology for applications such as electric vehicles.
According to Group14, it has successfully raised $214 million in additional funding from a consortium that includes Moore Strategic Ventures, Molicel, Lightrock Climate Impact Fund, Oman Investment Authority and Microsoft's Climate Innovation Fund. This brings the company's total Series C funding round to $614 million, it said.
Announced in 2020 as part of what the Redmond-based giant described as a "bold new environmental sustainability strategy," the Microsoft Climate Innovation Fund was set up to invest $1 billion over four years in new technologies to reduce and remove carbon to invest.
"Batteries are becoming the backbone of the clean energy transition," said Microsoft's Climate Innovation Fund director Brandon Middaugh. He claimed that Group14's technology has the potential to accelerate the decarbonization of transportation, electronics, energy storage and more.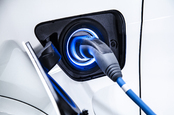 The inventor of the graphite anode – key technology for Li-ion batteries – says he can now charge an electric car in 10 minutes
CONTINUE READING
However, it's not clear how much of the new funding will come from Microsoft. In response to our inquiry, the company said the number would not be disclosed at this time.
Group14's technology appears to revolve around silicon-based anodes that can be added to existing lithium-ion chemistry to create lithium-silicon batteries. The company claims silicon has 10 times the capacity of graphite, the material currently used for anodes in lithium-ion batteries.
Switching to lithium-silicon batteries would bring a huge leap in performance for a tiny change in cost, Group14 argues in a white paper on their website.
The Washington-based company said it aims to build factories capable of producing commercial quantities of its silicon battery technology worldwide to meet what it says is rapidly growing demand from battery makers and automakers.
"Shortening the path to market for OEMs is critical so we can meet EV demand today," said Rick Luebbe, co-founder and CEO of Group14, in a statement. He now sees the industry at a crossroads for the future of electrified mobility.
Group14 said its first factory in Woodinville, Washington, opened in April last year with capacity to manufacture 120 tons of its battery material per year.
The Series C funding, in conjunction with a $100 million grant from the Biden administration, will be used to build the company's second commercial-scale facility. It has also announced an additional factory as part of a joint venture in South Korea with SK Inc. ®
https://www.theregister.com/2022/12/15/microsoft_silicon_battery/ Microsoft is pouring money into silicon battery launches • The Register