Midterms 2022: The Ultimate Insider's Guide
Most midterm elections are predictable affairs—the party in the White House loses seats (often, a lot of seats), voter turnout sinks—but not this year. Shifting momentum has kept the surprises coming.
Early expectations of a red rout that would allow Republicans to wrest control of both houses of Congress yielded to predictions this summer that Democrats would retain a slim majority in the Senate and lose fewer seats in the House than initially thought, as rising anger over abortion access in the wake of the Supreme Court's decision to overturn Roe v. Wade competed with concerns about a flailing economy and high inflation for voters' attention. Some key legislative victories for President Joe Biden and the emergence of a slate of GOP nominees for Congress and statewide offices deemed too extreme by many general-election swing voters added to the Democrats' rising fortunes.
Lately, though, the pendulum seems to be swinging back the other way, at least a bit, as talk of recession heats up again and a barrage of GOP campaign ads hits the airwaves. Indeed, competition for voter attention is so unusually intense this election season that some $10 billion is expected in campaign ad spending, eclipsing the record $8.5 billion set in 2020.
The result: With less than three weeks to go before Election Day, dozens of high-profile races appear to be statistical dead heats, leaving prognosticators looking a lot like the shrug emoji. And a fired-up electorate seems likely to break turnout records for non-presidential years.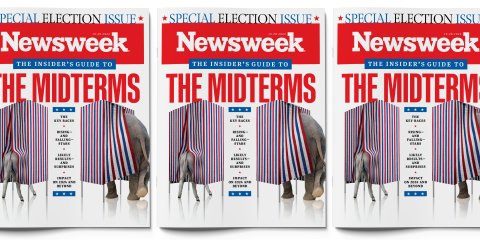 Why is this midterm election defying the post-presidential year doldrums? Clearly the immediate stakes are high: Control of Congress will dictate whether Biden is able to enact any meaningful legislation over the coming two years or is stymied by the opposition party. Republicans need a net gain of only five seats in the House and just one seat in the Senate to win a majority in each chamber. That's historical chump change compared to typical midterm losses for a sitting president's party (average loss since 1934: 28 House and four Senate seats), but 2022 could defy the odds.
The outcome of this election, though, will also speak volumes about the future of both parties, what really drives voters at the ballot box and the shape of the 2024 race for president. Will the GOP's new push for diverse candidates and outreach to voters of color pay off—and siphon off traditional Democratic constituencies? How will the slew of far-right candidates fare with the general electorate? How much of a galvanizing factor will the Supreme Court decision overturning Roe really turn out to be? What new figures will emerge as major players on the national political stage and which former stars will lose their luster?
Perhaps, most tellingly, this election looks to be a unique referendum not just on the sitting president but the last one, too. If Republicans seize one or both Houses of Congress, Donald Trump can argue there's an appetite for his return to the White House. So too if the slew of Trump-backed MAGA candidates running for state offices win many of their races—especially if they do so by hefty margins.
"We've never seen a former president who remained this involved or with this much control over his party even after he lost," says the campaign manager for a Republican gubernatorial candidate who was granted anonymity in exchange for candor and framed the midterm stakes clearly. "It's the economy versus abortion, Biden versus Trump and, as both sides truly believe, democracy versus the end of democracy as we know it. No wonder everyone's so fired up."
With so much at stake, Newsweek quizzed a panel of pundits, analysts and partisan insiders about the races and trends they're watching—and what the likely outcomes portend. The result: a helpful cheat sheet to what could be one of the most important midterm elections in U.S. history.
KEY RACES TO WATCH
The House
Will a red wave wash out dozens of Democratic incumbents and give Republicans control of the House? Keep an eye on these six contests on November 8 to gauge the electorate's mood.
Three Bellwethers in Virginia
The 411: These Old Dominion State races in districts that Biden won by varying margins in 2020 will be an early barometer of just how good (or bad) a night the GOP will have.
The Candidates: All three contests feature Democratic incumbents against Republican challengers. In the Virginia Beach area (VA-2), where Biden won by just 2 points in 2020, Representative Elaine Luria is running against State Senator Jennifer Kiggans. In the Fredericksburg district (VA-7), which Biden won by 7 points, it's incumbent Abigail Spanberger vs. Yesli Vega, a county supervisor. In suburban Washington, D.C. (VA-10), which Biden took by 18 points, Representative Jennifer Wexton is pitted against Hung Cao, a retired Navy captain.
Expected Outcome: Forecasts are mixed, with the Virginia Beach contest seen as a toss-up, Fredericksburg leaning Democratic and Washington, D.C., counted as likely or solidly blue.
Potential Impact: Polls close early here, so Sabato's Crystal Ball Congressional analyst Kyle Kendik says he's looking to this trio of races as a harbinger of how much Biden voters have turned away from him in similar districts around the nation. He says, "If VA-2 flips, that's indicative of the Republicans at least winning a House majority. If VA-7 flips, that indicates a pretty good night for Republicans. If VA-10 flips, it's a mega wave. And if VA-2 doesn't flip, it's probably a bad night for Republicans."
MAGA vs. Abortion in Michigan
The 411: In central Michigan's newly-configured 7th and 8th districts, where Biden squeaked by Trump in 2020, Democratic incumbents are pitted against hard-core Make America Great Again enthusiasts in a test of Trump's enduring influence.
The Candidates:  Representatives Elissa Slotkin (MI-7) and Dan Kildee (MI-8) are facing GOP State Senator Tom Barrett and ex-Trump immigration aide Paul Junge, respectively.
Expected Outcome:  Both races are rated a toss-up.
Potential Impact: Barrett and Junge parrot Trump's widely disproven claims about the 2020 election, oppose abortion without exceptions and are pounding their opponents over the Biden economy. That makes these races in Michigan, also in the Eastern time zone, early-in-the-night tests of whether the abortion issue motivates Democrats as much as Trumpism mobilizes Republicans. "If the Democrats are holding those kinds of seats, they might—might—still hold on to the U.S. House," says Jeff Timmer, a co-founder of the Lincoln Project, an anti-Trump PAC.
An Economic Prize Fight in Vegas
The 411:  Abortion rights, which are guaranteed by state law and can't be repealed without a referendum, are less of an issue in Nevada this year than in other places. Instead, the outcome here hinges on how much voters want to punish Democrats for the economy in a region where a gallon of gas cost around $5.30 a gallon in mid-October.
The Candidates: Democratic Representative Steven Horsford is up against Republican businessman Sam Peters, a Republican, in a district, NV-4, that Biden took by 8 points in 2020.
Expected Outcome:  Recent forecasts say the district is leaning Democratic but public polls show a statistical tie.
Potential Impact: This race represents what a lot of the country's races would have looked like if not for the rise of the abortion issue. A Horsford loss or even a squeaker win would augur badly for Dems in 2024 should the economy continue to sputter. Also, more than a quarter of the district's voters are Latino, so Horsford's vulnerability points to GOP inroads in a long-reliable demographic for Democrats. That could become decisive in 2024.
The Senate
While there are many other toss-up races, conventional wisdom says control of the Senate is down to the following three. Democrats need to win two of these to keep power.
A Messy Morass in Georgia
The 411: In addition to its role in determining party control, the Georgia Senate race puts on display many of the competing issues of the 2022 midterms, from abortion to celebrity to the power of a Trump endorsement.
The Candidates: Democratic Senator Rafael Warnock, who won his seat in a high-stakes special-election runoff in January 2021 that was pivotal in determining control of the upper chamber of Congress, is running against Trump-backed former University of Georgia football hero Herschel Walker.
Expected Outcome: The highly competitive race is considered a toss-up by major prognosticators, though the RealClearPolitics polling average has Warnock up by just over 3 points.
Potential Impact: The results could say a lot about what voters care about most. Are they put off by salacious scandal or is party loyalty and a Trump endorsement potent enough to overcome melodrama? The Peach State took a surprising left turn in 2020 when it elected Democrats for president and two Senate seats, bucking a decades-long trend as a GOP haven, and many people expected it to course-correct in response to disappointment over Biden. Yet Walker's ongoing drama—he has four known children with four different women and, despite his anti-abortion stance, reportedly paid for one to terminate a pregnancy—has put that to the test. The Republican was a Trump recruit, so his loss would be viewed as a ding on the ex-president. Says Jim Dornan, a veteran GOP strategist who worked on Trump's 2015 exploratory campaign committee and this year is advising Republican candidates in Oregon, Maryland and California, "He's a terrible candidate. But he could still win."
A Tightening Race in Pennsylvania
The 411: It's a battle of personalities as much as a choice between political philosophies in this high-profile contest.
The Candidates:  Lt. Governor John Fetterman, a Democrat, is running against ex-TV host Dr. Mehmet Oz, a Trump-endorsed Republican, to replace retiring GOP Senator Pat Toomey.
Expected Outcome: Fetterman's once commanding lead has been narrowing. Cook Political Report now rates the race a toss-up, while Sabato says it's merely leaning Democratic.
Potential Impact: Democrats need to flip Pennsylvania to keep Senate control. Fetterman's stroke kept him off the campaign trail for months, but he's remained in front of voters via viral memes painting Oz as an elitist, an endorser of scam products and, perhaps worst of all, from New Jersey. But lately Oz has nearly closed the gap by hitting Fetterman as soft on crime with a barrage of ads. Even though Oz came to the race with national fame, it's the 6′-8″ hoodie-and-shorts-wearing Fetterman whose ability to connect with voters could carry the day and provide a playbook for Dems trying to regain the party's footing with the working class.
Dems on the Ropes in Nevada
The 411: The Democrats' hyper focus on abortion isn't doing them much good in Nevada, where access to the procedure is legally protected. That has the Democrat currently in office looking like the party's most vulnerable Senate member.
The Candidates:  Sitting Senator Catherine Cortez Masto, the first and only Latina ever elected to the upper chamber, is running against the GOP's Adam Laxalt, former state attorney general and son and grandson of senators.
Expected Outcome: Another nail biter: Both Cook and Sabato rate this race as a toss-up.
Potential Impact:  Democrats are increasingly pessimistic about Cortez Masto, whose first win in 2016 was guided by then-Senator Harry Reid but whose political machine has atrophied since he left office and then died. On her own, Cortez Masto may not be dynamic enough to overcome the ire of Nevadans hard-hit by COVID shutdowns—especially in a state where gas costs $5.30 a gallon. "I think we lose Nevada," says a top Democratic aide who has worked on several campaigns this year. "Cortez Masto just doesn't have it in her to pull this through."
FOUR TRENDS TO WATCH
In addition to the outcomes of individual races, keep an eye on these developments shaping the future state of politics in America.
1. Little Big Lies Everywhere
With so many races expected to be extremely close and so many Republican nominees who claim the 2020 election was stolen, expect a new round of election denialism and accusations—unfounded—of voter fraud. In other words, mass election denial may not turn out to be unique to the Biden-Trump presidential race but an ongoing saga in U.S. politics affecting races up and down the ballot. This will be particularly true if the midterm outcomes favor Democrats in ways that defy the polls or if it takes several days to count all the votes, Cook Political Report analyst Jessica Taylor says. Arizona GOP Senate nominee Blake Masters, for instance, says the winner should be ascertained on election night. "There's no law that says that we have to know on election night," Taylor says. "That's ridiculous. But it will give rise to new claims."
2. Ticket-Splitting
The nation is deeply polarized yet voters in several states seem poised to pick one Democrat and one Republican from the top of their ballots. They include:
Arizona, where a sizable number of voters appear to be ready to re-elect Democratic incumbent Senator Mark Kelly, but also seem to be throwing their support behind Republican gubernatorial hopeful Kari Lake.
New Hampshire, where incumbent Senator Maggie Hassan, a Democrat, and Governor Chris Sununu, a Republican, both look to be gliding to re-election.
Vermont, where incumbent Governor Phil Scott, a Republican, and Democratic Senate nominee Peter Welch are heavily favored to win their respective races.
Georgia, where the tight race between Democrat Warnock and Republican Walker is a sharp contrast to the governor's race, where GOP incumbent Brian Kemp holds a big lead in his re-election bid over challenger Stacey Abrams.
Ohio, where Governor Mike DeWine, a Republican, is way ahead of Democratic challenger Nan Whaley at the same time as Democratic Senate candidate Tim Ryan is only a couple points behind his GOP opponent, author J.D. Vance.
Traditional alliances are shifting, says former Republican National Committee spokesman Paris Dennard, with once-loyal constituencies becoming more open to the other party's message. He cites some erosion of support from Black and Latino voters for Democrats, and some losses among suburban women for the GOP. "Candidates are going to have to start to campaign in a different way," Dennard says. "If you have split-ticket voters, that means that every vote is actually up for grabs."
3. The New GOP Diversity Push
Republicans are looking to Texas and Indiana to indicate whether their outreach to Black and Latino voters pays off. In Texas, Army veteran Wesley Hunt is heavily favored to win an open seat in Houston's northwest suburbs, which would increase the number of Black Republicans in the U.S. House to three. GOP nominee Jennifer-Ruth Green, whose surprisingly strong challenge to Democratic Representative Frank Mrvan in northwest Indiana has forecasting sites calling the race a toss-up, could make it four. That would be a record.
Meanwhile, Representative Mayra Flores, a Republican, became the first Mexican-born woman elected to Congress in a June special election to fill the remainder of a term of a Democrat who resigned. Thanks to redrawn maps as a result of redistricting, though, she's pitted against another incumbent, Democratic Representative Vincente Gonzalez, Jr. Gonzalez is favored to win according to forecasters, but even a strong showing by Flores in defeat would be more evidence that the GOP is making inroads with Latino voters.
4. SOS for SoS Races
Once sleepy races decided by how the public feels about the service at their local DMVs, contests this year for secretary of state suggest an emphasis on who runs elections that is unlikely to diminish after 2022. A record amount of spending has poured into contests in Michigan, Arizona and Nevada this year, three 2020 swing states where Trump falsely claims election fraud robbed him of wins and, thus, a second term. The GOP candidates say they would not have certified Biden's wins there, raising fears they'd unleash chaos in 2024 in the event of an unfavorable outcome for the Republican presidential nominee.
"Republicans are trying to get sympathetic characters into office that can help them in 2024," Cook analyst Jessica Taylor says. "It's an under-the-radar job, and I'm still not convinced that everyone is paying close attention to it as they should." Many of these races are toss-ups.
HOT OR NOT?
The midterms will inevitably make or break the political futures of many of the candidates running. Here's how the results may affect key contenders.
Who's Next
Kari Lake
If the charismatic former TV anchor turned MAGA darling wins the governorship in Arizona—the race is currently considered a toss-up—the buzz begins in earnest about her as a possible Trump 2024 running mate.
Gretchen Whitmer
The Michigan governor, a short-lister for VP in 2020, would cement her standing as a top Democratic voice and potential presidential or VP candidate if, as expected, she wins a second term in a purple state by more than 5 points.
Ron DeSantis
A big win four years after winning his first term as Florida governor by a scant 0.4 percent, especially amid his divisive moves on immigration and education, would affirm DeSantis as the GOP's top 2024 alternative if Trump doesn't run.
Tim Scott
The only Black Republican in the Senate, Scott has had to spend little of his massive war chest in a cakewalk to a second full term in South Carolina. Instead, he's doled out funds to fellow Republicans as he bides his time for a potential presidential run in 2024 or 2028. One possible sign of his intent: a summer trip to Iowa, host of the GOP"s first presidential nominating contest.
Who's Over
Stacey Abrams
A second consecutive loss to Republican Governor Brian Kemp in Georgia may not kee the Democrat from her long-stated goal of running for president. But it devastates her claims of electability. Kemp has a commanding lead in the most recent polls.
Charlie Crist
The former GOP Florida governor from 2007-11 became a Democrat in 2012, lost a comeback bid for governor in 2014, won a seat in the House in 2016 and gave it up in August when he won the nomination to face DeSantis. If, as expected, he gets thumped, there's little left for him to do.
Beto O'Rourke
A former House member who rose to fame by losing to GOP Senator Ted Cruz of Texas by an unexpectedly narrow margin in 2018, O'Rourke flamed out in his 2020 bid for the Democratic presidential nomination. Now he seems poised to lose a second statewide race, this time to incumbent GOP Governor Greg Abbott.
John James
After losing bids as the GOP nominee for Senate in Michigan in both 2018 and 2020, he's now running for a House seat in suburban Detroit. If he loses or, as polls suggest, only narrowly wins, his argument for future statewide office takes a hit.
https://www.newsweek.com/2022/10/28/midterms-2022-ultimate-insiders-guide-1752888.html Midterms 2022: The Ultimate Insider's Guide