Mila Kunis remembers the crude bet Danny Masterson and Ashton Kutcher made in an old clip
A new thread with old interviews and promos with Ashton KutcherDanny Masterson and Mila Kunis is causing quite a stir online.
On Saturday, a social media user several old clips resurfaced on X, formerly Twitter, This highlights how Kutcher and Masterson routinely sexualized Kunis while working together on "That '70s Show."."
While it's unclear when some of the clips were recorded, it should be noted that Kunis was cast on "That '70s Show" when she was just 14 years old, while Kutcher was 19 and Masterson was 22. The sitcom premiered on Fox in 1998 and ended in 2006.
A clip in the thread shows a joint interview between Kunis and Kutcher "The Rosie O'Donnell Show" in the early 2000s (The show ran from 1996 to 2002). In the video, Kunis calls out Kutcher for an incredibly inappropriate bet he made with Masterson during the show's first season.
"She was 14 when we started the show," Kutcher says at the start of the clip. "I was about 19 and they said, 'Okay, you guys are going to make out in this scene.' And I'm like, 'Wait a minute, that's kind of illegal, right?'"
O'Donnell then asks Kunis if this was her first kiss.
"He was my first kiss," Kunis confirms, before raising an eyebrow at Kutcher and confronting him about "a bet" he made with Masterson about their first kiss.
While Kutcher continues to insist that this bet didn't happen during their first on-screen kiss – and Kunis counters that this incident happened during their first week of filming – Kunis decides to throw Kutcher a bone by saying:
"I've never kissed a man, Ashton is attractive, and I was a 14-year-old little girl and I was very scared for my life. He was very nice about it and said, 'No, don't worry about it.'"
"Then Danny goes up to him and says, 'Dude, I'll give you $10 if you French kiss her,'" Kunis added.
After the revelation, Kutcher admitted that he and Masterson "made a little side bet" about whether or not Kutcher could stick his tongue in Kuni's mouth, and that the bet was for $20, not $10.
"So Danny bets me like twenty dollars that I wouldn't do it, so of course I'm like, 'Yeah, sure, what's going on?'" Kutcher said, indicating he took the bet.
"And then the cops showed up and you were arrested?" O'Donnell asked.
"They should have done it, but they didn't," Kutcher said, prompting Kunis to claim he never got his tongue in her mouth.
"I did!" Kutcher replies. "I did this!"
"I didn't allow it, I think he tried, but I kept my mouth so closed," Kunis insisted.
"You blocked the teeth?" O'Donnell asked Kunis as Kutcher continued to loudly deny Kunis' claims.
"Yes! He never got his tongue in my mouth!" Kunis said triumphantly as Kutcher continued to protest.
"She's 14!" O'Donnell finally yells at Kutcher. "Stop doing that!"
Kutcher then insists that Kunis was not yet 14 when he made the bet with Masterson.
"You had already turned 15 by then," Kutcher said to Kunis. "There is a big difference…that one year changes the whole world."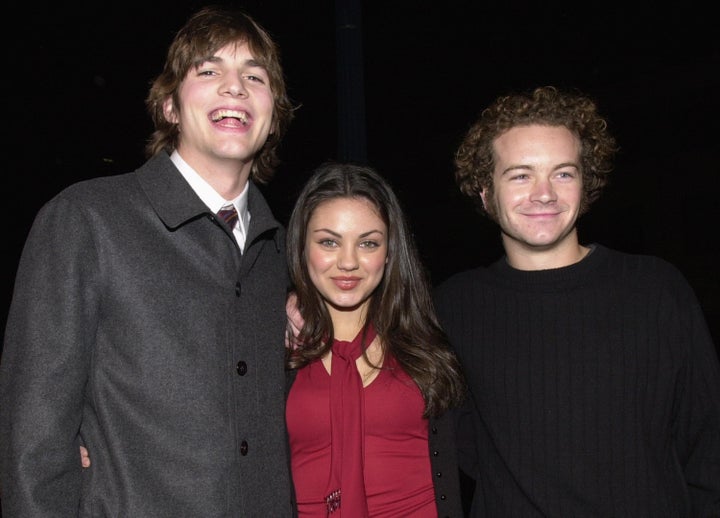 Other clips that have resurfaced in the thread include a Behind the scenes clip in which Masterson interrupts Kunis to tell her that she looks "really hot" in their costumes in the show, a Clip from 2001 in which Kunis portrays her character Jackie as "the whore on the showBecause she had to kiss "every single guy on the show except Topher." [Grace]," And a promo clip in which Kunis sits on Kutcher's lap and says he's doing this promo because he was told, "Mila would sit on my lap if I did that… and it feels good."
The resurfaced clips come amid some very bad press for Kutcher and Kunis.
Last week it was revealed that the couple had written to the judge overseeing Masterson's sexual assault conviction letters of praise about the convicted rapist in the hope that the judge would be more lenient in sentencing.
But it didn't seem to help. Masterson was sentenced to 30 years to life in prison Thursday for raping two women at his home in the Hollywood Hills in the early 2000s.
Kunis and Kutcher received major backlash when it was revealed that they supported Masterson and were released a strange apology in a video on Saturday — which earned them even more public scorn.