Minecraft Live 2023: Minecraft Update 1.21 in 2024, new Legends content on the horizon
Minecraft Live 2023 has come to an end and the show provided information about upcoming content for the franchise as well as news of a 15th anniversary celebration in 2024 and a major milestone.
What is this big milestone? Minecraft has sold over 300 million copies since its full release in 2011.
"As we approach its 15th anniversary, Minecraft remains one of the best-selling games of all time, with over 300 million copies sold, a milestone no one could have dreamed of when we all placed our first blocks," said Helen Chiang. CVP of the Minecraft franchise and head of Mojang Studios.
"Our incredible community has made Minecraft what it is today and what it will be in the future. We can't wait to share new Minecraft content and experiences in the years to come."
The over 300 million Minecraft players will enjoy this content Update 1.21 is in the works and will arrive sometime in mid-2024.
Details about the update were announced by Agnes Larsson and Jens Bergensten from Mojang during Minecraft Live. The duo revealed upcoming features such as underground, procedurally generated structures, light-emitting blocks, a new enemy mob and more.
One of the new features will be the Crafter, which brings automated crafting to the game, which is particularly interesting for Redstone engineers. The Crafter also features a unique user interface that helps redstone newbies understand the mechanics of the feature. The UI introduces switchable slots to the crafting grid. So if you click on an empty slot with an empty hand, the slot will be disabled. Clicking on a disabled slot will activate it to define your crafting recipe.
The copper bulb will be included in update 1.21. This new light-emitting block is made of copper and, similar to other copper blocks, can oxidize over time, be waxed and scraped with an ax. The intensity of light it emits depends on the oxidation state, i.e. the more oxidized it is, the darker it becomes.
Another feature is procedurally generated underground structures, called experimental chambers, which are created from new copper block sets, tuff block sets and copper bulbs. It presents a unique challenge to overcome and brings with it a new enemy mob.
The update includes a new spawner type called Trial Spawner. This new type of spawner differs from traditional mob spawners in that it will not spawn additional mobs for an extended period of time after spawning a certain target number. The spawner also rewards players by throwing out their loot. Test spawners dynamically adjust some of their parameters depending on how many players are nearby.
The new enemy mob coming into play is the Breeze, which can be found in the Trial Chambers. A challenge when it comes to braving the chambers, the Breeze moves through jumps and fires projectiles of wind energy that explode on impact, just as Blaze fires fireballs. If it collides with you or a creature, it will explode instantly. These explosions cover a blast radius of a few cubic blocks, dealing minor damage and knocking back all nearby units. They have a new particle that shows what is happening and differentiates it from a typical damage explosion.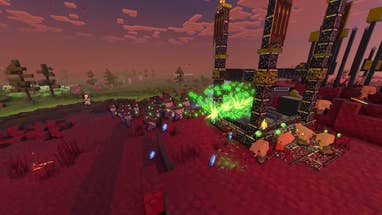 For Minecraft Legends Players have been announced the latest Lost Legends, including Creeper Clash, releasing on October 19th just in time for Halloween. In December, you can look forward to Snow vs. Snout along with new features, frogs, a new Piglin unit and structure, etc. New witch allies in the game who cast potions.
And that's not all: On November 7th, a new round of DLC entitled will be released on the Minecraft Marketplace Star Wars: Path of the Jedi. In this adventure, you begin your journey to becoming a Jedi Knight as a Padawan. Expect lightsaber battles and the ability to use Force powers, come into contact with iconic Star Wars characters, and explore various locations. You can also redeem a free Creator item in the Minecraft Dressing Room.
Also new is coming to Minecraft Education and Minecraft Marketplace in 2024 Planet Earth 3 DLC, inspired by the BBC Earth series, which will be broadcast worldwide this autumn. The DLC aims to immerse players in the wonders of nature, with the overarching message that everything in nature is connected; That's why we need to take care of our planet so that it can take care of us.
Today's announcements are just the tip of the iceberg, with more updates and surprises to look forward to in 2024, according to Kayleen Walters, head of franchise development at Mojang Studios.
"As we celebrate our 15th anniversary, we at Minecraft would like to express our gratitude to our passionate Minecraft community. It is the creativity and commitment of our community that has helped make this world extraordinary," said Walters.
"As we begin this milestone year, we look forward to honoring and celebrating your contributions, stories and adventures. Thank you for 15 fantastic years of crafting, building and discovering together."